It's 1952 all over again at the Broadway Playhouse at Water Tower Place in downtown Chicago. Anyone who remembers the original "I Love Lucy" TV series—or finds comfort in watching reruns of the black-and-white comedy classic—should not miss seeing their favorite characters in color in I Love Lucy Live on Stage, a show running through Nov. 11. It's proving to be a winner with boomer and senior groups.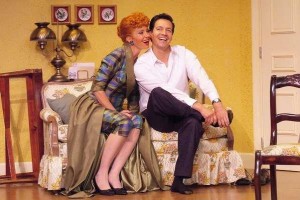 The show's recent run in Los Angeles was so well received that it's coming back in 2013 to a bigger venue, and there are plans for it to visit other cities.
In a world full of turmoil, the antics of Lucy Ricardo and her Cuban band leader husband Ricky, along with pals Fred and Ethel Mertz, provide sheer escapism. The actors in this new production uncannily capture the mannerisms and expressions of the famous foursome. Actor Bill Mendieta, as Ricky, is the best.
Audiences are transported back to a Desilu Playhouse soundstage, where an emcee and the Crystaltone Singers (performing live advertising jingles for products like Bryl Creem, Alka-Seltzer and Chevrolet) take the stage between scenes being filmed for this brand new thing called "television."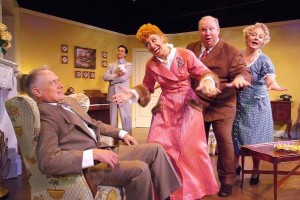 Settings like the Ricardos' New York apartment and Ricky's Tropicana nightclub spark the memories of Lucy fans as they recall the storylines from two episodes ("The Benefit" and "Lucy Has Her Eyes Examined"). The first scene has Lucy and Ricky performing at Ethel's Wednesday Afternoon Fine Arts League benefit show. In the other, Lucy auditions for a Broadway producer at the Tropicana; unfortunately, her reaction from eye drops given that afternoon almost blinds her, hampering her jitterbug routine on stage. Most entertaining is the verbal sparring—the little jabs—between Fred and Ethel and between Ricky and his "crazy redhead" wife (played by Sirena Irwin, who has done voices on animated shows like Nickelodeon's "SpongeBob Squarepants").
I Love Lucy Live on Stage, though a great slice of nostalgia, doesn't quite capture the magic of the original TV show, but nothing could. Even when Lucille Ball returned to TV with sit-coms in the 1960s, it just wasn't the same as those episodes with Ricky and the Mertzes. But the 95-minute stage show is a masterful piece of theater, one that will make your groups feel good all over.
For groups of 15 or more, call Broadway in Chicago's group desk, 312-977-1710; broadwayinchicago.com; ilovelucylive.com.