Celebrity Cruises has just released more details about its third Edge-class ship, the Celebrity Beyond.
The line's newest ship is building on the design and features of her predecessors, the Celebrity Edge, which debuted in 2018, and Celebrity Apex (2020). The Celebrity Beyond will amplify some of the extraordinary features that Celebrity Cruises is known for. When the ship debuts on April 27, 2022, she will offer cruises in Europe before heading to the Caribbean in October.
Celebrity Beyond's Re-imagined Spaces
The Celebrity Beyond features some re-imagined spaces onboard. The Retreat®, the exclusive resort-within-a-resort area for suite guests, will now have a two-story sundeck. It provides secluded cabanas, the exclusive Retreat Bar and new chic seating areas. The Retreat Lounge is a stylish place to unwind, and Luminae, the adjacent private restaurant, is located at the front of Celebrity Beyond.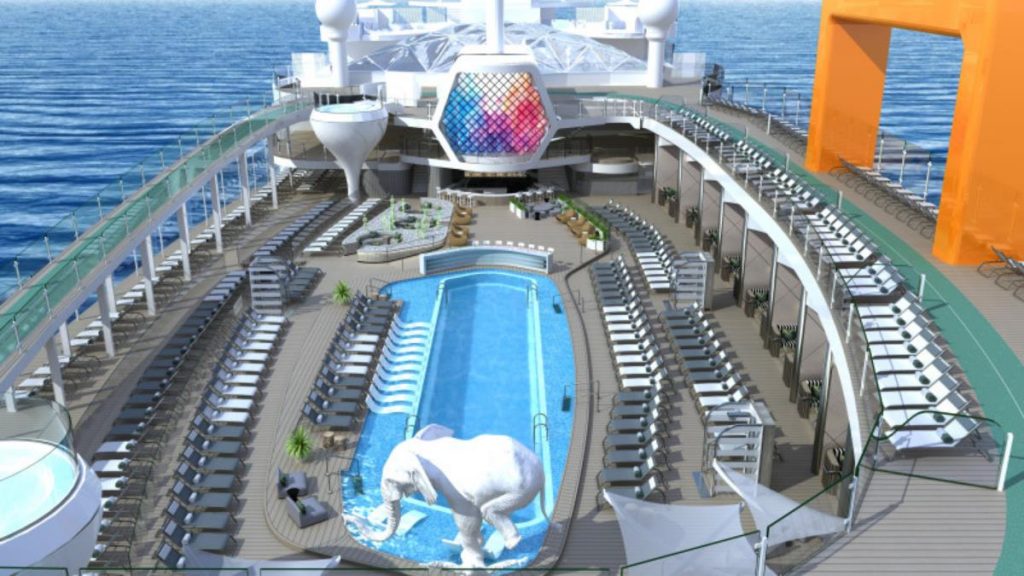 The redesigned Grand Plaza will now span three decks, and redefining the aft of the Celebrity Beyond is a multi-terraced, multi-level Sunset Bar. The Rooftop Garden has been expanded and includes seat offerings with new private nooks and more spaces for enjoying live music, movies and outdoor dining at the expanded Rooftop Grill.
The stunning Resort Deck features a terraced pool area, new sunken seating areas and a 25-yard lap pool.
Also returning is the Magic Carpet®, which debuted on the Celebrity Edge. In this dramatic, open-air space cantilevered above the sea, guests can enjoy cocktails or dinner with beautiful views. A movable, tennis court-size platform positioned on the side of the ship, it can be used as a tender launch site for going ashore.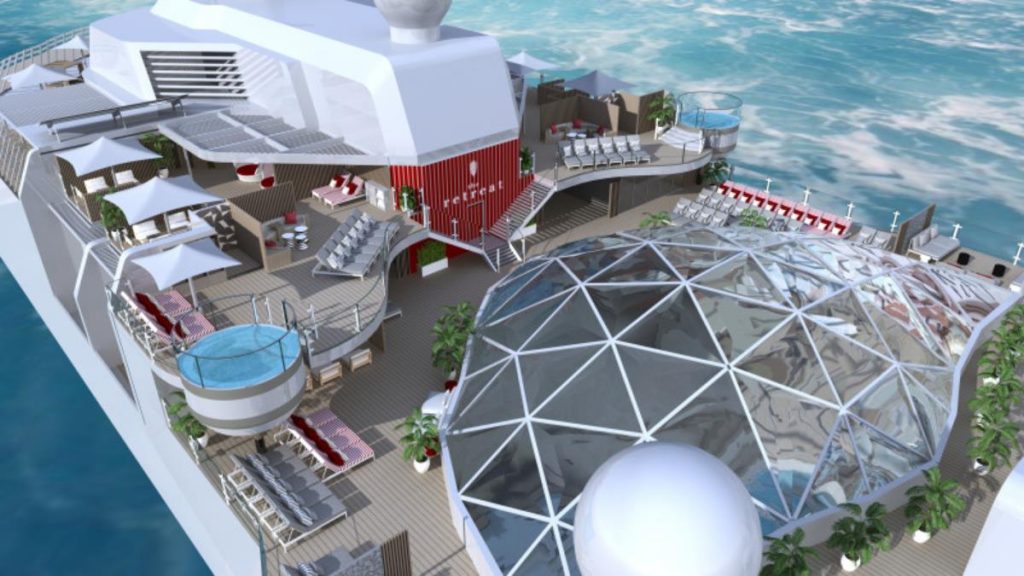 The Sunset Bar is nearly twice as large as ones on the Celebrity Edge and Celebrity Apex. This chic, Moroccan-inspired escape lets guests enjoy and connect in a more intimate way. Guests enter and walk through a pergola-covered entrance to the cascading terraces and enclaves, where they can soak in spectacular views.
The Grand Plaza
The Grand Plaza on the Celebrity Beyond is larger than ones on her Edge-class sister ships. Spanning three decks and located at the heart of the ship, the Grand Plaza provides an airier atmosphere, with more room for intimate seating. The new Martini Bar is a full circular bar located in the center. Hanging above is the Grand Plaza's iconic chandelier, which features a new organic shape, with hundreds of LED lights that glow at all hours.
New on Celebrity Beyond
The Celebrity Beyond will also feature some new experiences for guests. One is Le Voyage, an intimate restaurant by world-renowned chef Daniel Boulud. Connected to the Grand Plaza, Le Voyage accommodates just 50 guests. Cuisine is inspired by travel and the global flavors of the Michelin-rated chef. World-class sommeliers will pair perfect wines for guests. Enhancing Le Voyage's ambience are the intimate seating cocoons surrounded by luminous portals.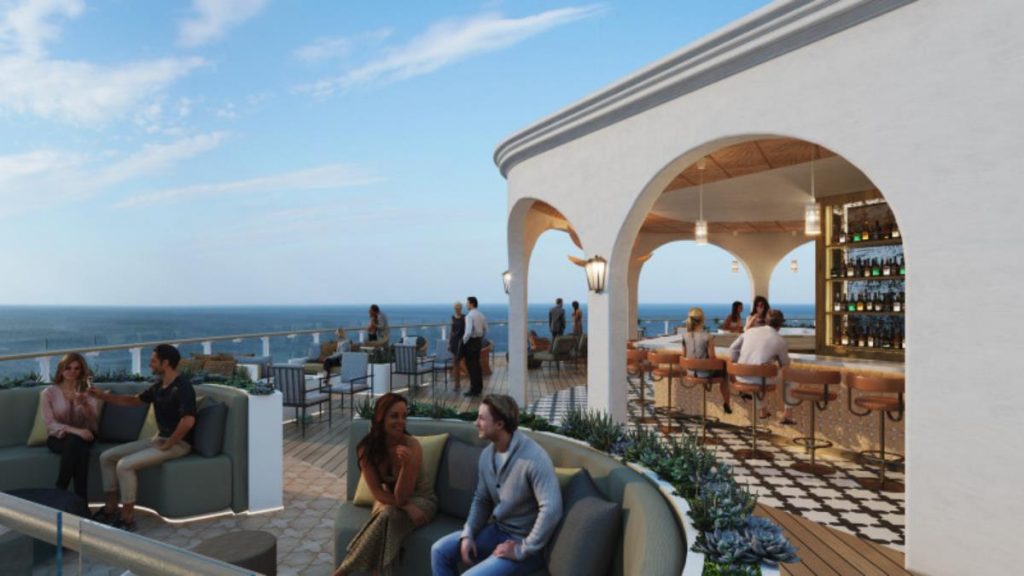 Also new to the Celebrity Beyond are AquaClass SkySuites, which feature floor-to-ceiling ocean views and private verandas. AquaClass guests will receive special wellness amenities, thanks to a partnership Celebrity Cruises has with actress and entrepreneur Gwyneth Paltrow. She serves as the cruise line's new Well-being Advisor. In addition, the wellness amenities will be offered to AquaClass guests across the entire Celebrity fleet (excluding Galapagos sailings).
More about the Celebrity Beyond
The Celebrity Beyond's maiden voyage on April 27, 2022 will depart from Southampton, England. From spring to fall she will be sailing on different itineraries that include the Italian and French Riviera, Greek Islands, Malta and various ports in Italy. From October 2022 to April 2023, she will be offering Caribbean itineraries, sailing to the Bahamas, U.S. Virgin Islands, Mexico and the Cayman Islands.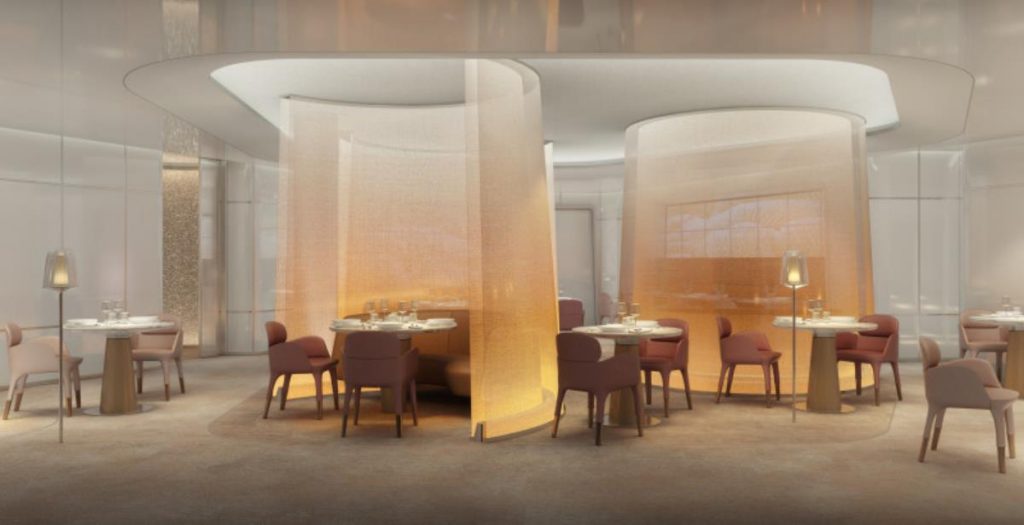 The Celebrity Beyond, with a length of 1073 feet and beam of 128 feet, is 140,600 gross tons and can accommodate 3,260 guests based on double occupancy. As the newest ship in Celebrity Cruises' cutting-edge fleet, she is definitely one to consider for your group.
---
Cindy Bertram has 15+ years of cruise industry expertise in marketing, content creation, sales and training as well as social media. Her MBA from Loyola University Chicago complements her high creative edge and liberal arts BA. She can be reached at cindy@ptmgroups.com.