Travelers from around the globe are flocking to Germany as the 500th anniversary of the Reformation approaches
Germany has been marching toward the Luther Decade for nearly 500 years and now is marking the final chapters in this once-in-a-lifetime event that has attracted millions worldwide.
Thousands more, many as part of group tours and pilgrimages, are planning to visit Luther Country before the 10-year celebration ends in 2017. Celebrating the Reformation movement, which started in Wittenberg when Martin Luther nailed the 95 Theses to the Castle Church door in 1517, Germany has moved into high gear to welcome visitors on this special occasion.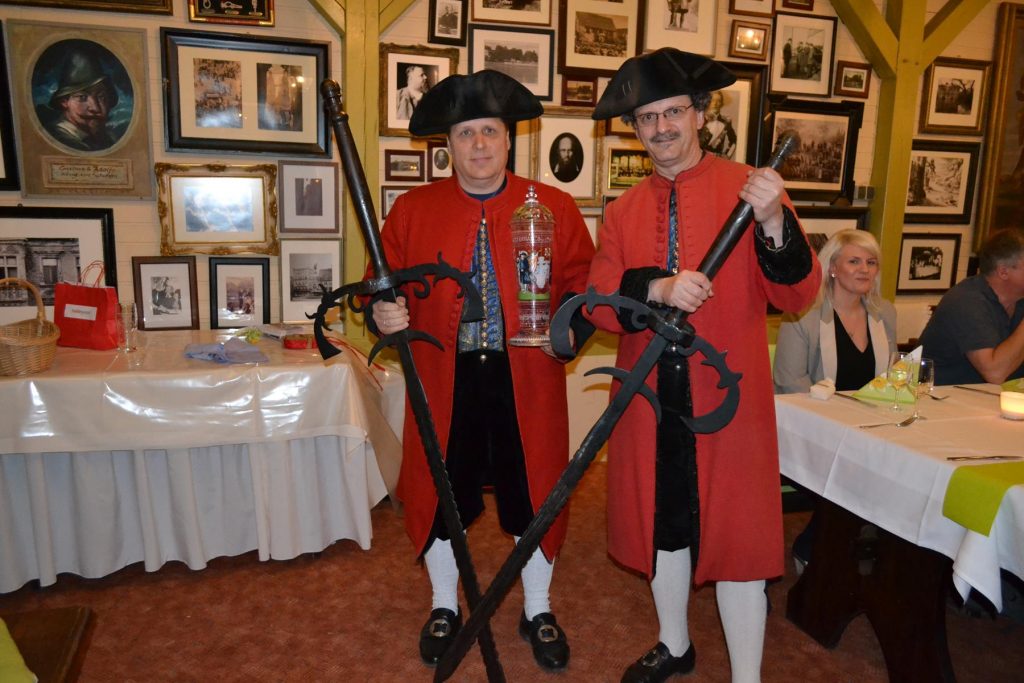 "As a tourist destination, Germany is internationally renowned for its cultural treasures and sits right at the top of international rankings for favorite cultural tourism destinations," explains Petra Hedorfer, chief executive officer of the German National Tourist Board. "Spiritual travel and cultural travel are thus important sectors of our activities promoting Germany as a destination for foreign markets."
Reformation Effects
The Reformation not only revolutionized spiritual life worldwide, but also provided the impetus for wide-ranging social and political developments. Economic life was accelerated, the Bible was translated into German and the printing press helped disseminate the translation. Today more than 817 million Protestants the world over owe their spiritual and religious existence to the events of the Reformation.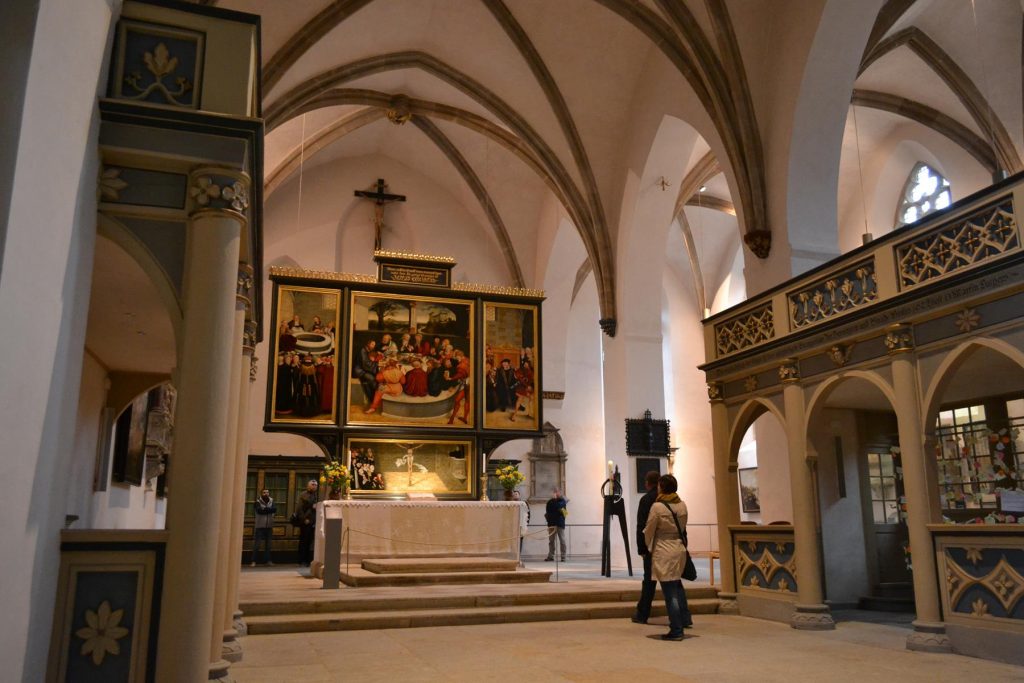 Few tour themes have such a rich and historic meaning as the Reformation. And though few men or women have changed the history of the world, Martin Luther did just that.
How would you like to stand inside the room where the "Father of the Reformation" translated the New Testament from Greek into German? Or admire the pulpits from which he preached, or even taste his favorite beer? Luther's influence on Germany's cities and towns is significant, and from religion and music to art, cuisine and even lifestyle, his footprint can still be found in many segments of daily life.
The area in which Luther traveled during his lifetime, mostly in the German states of Saxony-Anhalt and Thuringia, are rolling out the red carpet, as is all of Germany, for groups that wish to take part in the special festivities, programs and tours. Saxony-Anhalt alone is home to more than 60 places with links to Luther, including houses, monasteries, churches, cathedrals and castles in 33 towns and districts.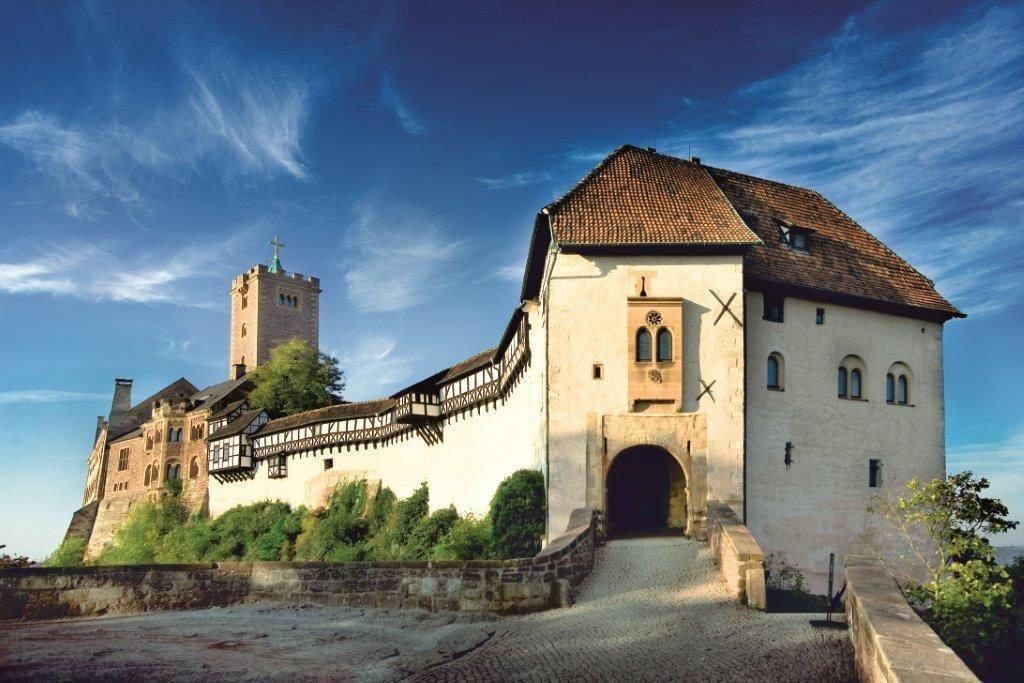 Groups can visit the "Mother Church of the Reformation" in Lutherstadt Wittenberg and Luther's birthplace in Lutherstadt Eisleben. At the impressive 1277 Augustinian monastery in Erfurt where Luther lived as a monk, you can see his room as part of a guided tour.
No tour of Luther Country is complete without a visit to Eisenach's 11th century Wartburg Castle, where Luther translated the New Testament in 1521; you can visit his study. Both Luther and Johann Sebastian Bach are honored sons of Eisenach; Bach was a passionate Lutheran and shared many of Luther's beliefs. Eisenach's historic market square and centuries-old, half-timbered houses are a special experience for visitors. The Luther House there re-opened in 2015 with a new multimedia exhibition entitled Luther and the Bible.
In 2017, Berlin, Eisenach (Wartburg Castle) and Wittenberg will provide the backdrop for a series of National Luther Exhibitions. From April to November 2017 at The Luther House in Wittenberg, the exhibition entitled Luther! 95 People – 95 Treasures presents 95 people and their individual relationships with Martin Luther and his work.
Stephan Dorgerloh, Saxony-Anhalt's minister for culture, sees the anniversary of the Reformation in 2017 as a unique opportunity to present, on a national and international level, the state where the Reformation originated. The events allow Saxony-Anhalt to show that it is a land of culture with "an incredible amount to offer and where important contributions to history have been made," he says.
[cta id="54018″ vid="0″]
Events Galore
In Wittenberg, a Festival of Light will be celebrated in October of 2017 on the meadow surrounding the Elbe River in the shadow of the Castle Church and St. Mary's Town Church. A festival service on Sunday will be the highlight of the German Protestant Kirchentage or "church day" celebration.
And every June, Wittenberg celebrates Luther's marriage to Katharina von Bora with upwards of 100,000 visitors, many dressed in medieval costumes. A giant parade, re-enactment of the wedding feast and dozens of special activities are scheduled.
Other Luther festivals and programs in 2017 include Reformation Day activities in Wittenberg on October 31; Luther's First Day at School celebration at Mansfeld Latin School on April 22; the August 30 Walk Along the Luther Trail to Eisleben; and Advent in Luther's Courtyard on December 1, also in Eisleben.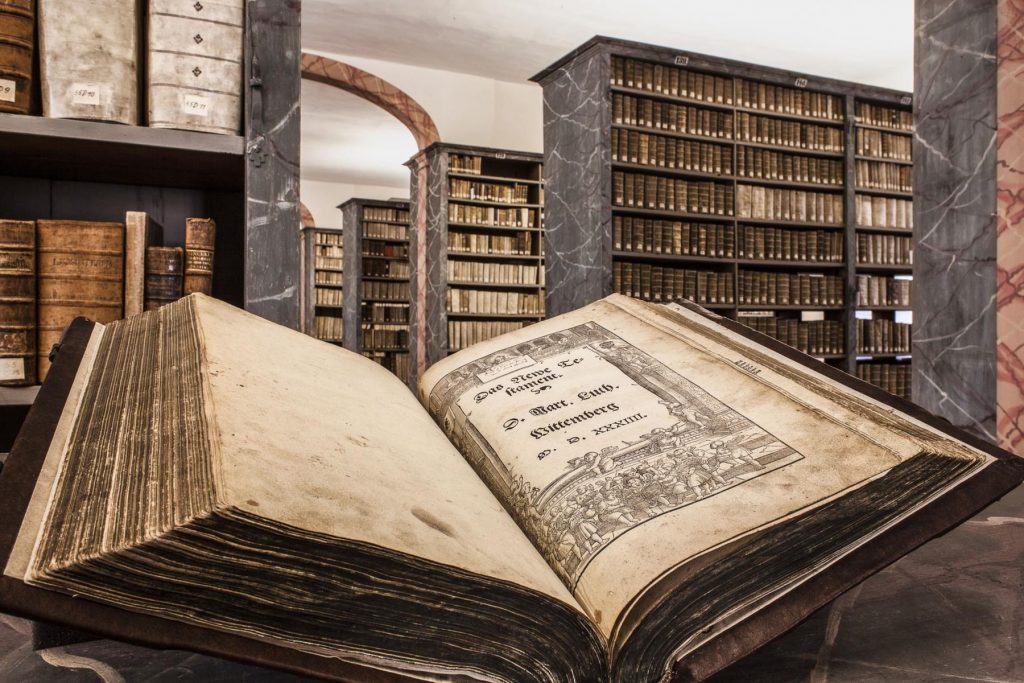 St. Mary's Church library in Halle, with the oldest and one of the largest Protestant church libraries in Germany, founded in 1522, will present a special Luther exhibition from October 31, 2016 through February 28, 2017. Visitors will find a collection of historical artifacts from the first printed documents dating from the Reformation to Luther's drinking mug.
The permanent exhibition in the Luther House in Wittenberg will reopen after extensive restoration work over the festival weekend of March 4-5, 2017. And from May 20 to September 10, 2017, the World Reformation Exhibition in Wittenberg invites groups to visit the seven "Gates to Freedom." Each gate serves as a vantage point for a good view of the town while focusing on various Reformation topics.
In March 2017, a conference will be held in Halle focusing on hymns of the Reformation, and a special Reformation Walk will take place between Lutherstadt Mansfeld and Lutherstadt Eisleben on October 1 that year.
With so much planned in 2016 and 2017 and so many German cities and towns participating in the Luther Decade, tour groups will find the welcome mat out throughout this history-filled region.