The warm Mediterranean climate, lingering fog and maritime breezes are perfect for plant growth from all around the world. Tour groups searching for outdoor garden experiences, from native to creative, will find what they are looking for in California.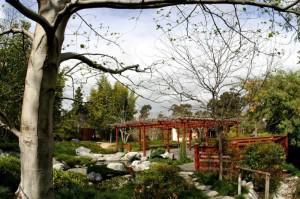 Beginning in the northern part of the state, San Francisco is the home of Golden Gate Park, encompassing more than 1,000 acres. It is larger than New York City's Central Park and borders the Pacific Ocean. Like Central Park, it is as an expansive, approachable and welcome escape from the traffic and congestion of the city. Among park attractions, the Japanese Tea Garden, San Francisco Botanical Garden and Conservatory of Flowers are favorites of tour groups.
The Japanese Tea Garden, the oldest public Japanese gardens in California, was created by Baron Makoto Hagiwara for the Mid-Winter Exhibition of 1894.  On four acres densely packed with water features, groups experience an intense awakening of the senses with the sounds of an azalea-covered waterfall, sights of decorative lanterns and statues, and sweet smell of wisteria and other fragrant blooms.
Check out the Digital Flipbook Version below: