From must-see live shows and must-do attractions, Branson's reputation as a fun destination is well-deserved.
In February 2021, FORBES named Branson "One of the Ten Best Places in America to Travel to Right Now and Avoid the Pandemic."
In 2020, TripAdvisor's Best of the Best U.S. Destinations named Branson No. 18 – Branson has been in the Top 20 for nine years in a row.
Branson received more accolades in 2020 for its 60th Anniversary celebration, as Silver Dollar City took the crown for No. 1 Amusement Park in the land by 10 Best/USAToday Readers' Choice Awards. Two additional awards go to the 2015 Guinness World Record-holding wooden roller coaster, Outlaw Run, which ranks in the Top 10 Best Roller Coaster poll (No. 10) and Buckshot Annie's, home of the city's favorite skillet meals, which ranks as the No. 5 Best Theme Park Restaurant.
Golfweek's Best Courses You Can Play in Missouri named four Branson courses among the top 10 public courses in the state. Ozarks National was voted No. 1, Buffalo Ridge: No. 2, Branson Hills No. 3 and LedgeStone No. 7.
Oprah magazine's 2020 Most Magical Christmas Towns and Villages Across the World included Branson. Fodor's 12 Most Bonkers Lights Displays in the U.S. for 2019 listed Branson.
With 40 theaters and more than 100 shows, more than 60 attractions and 120 restaurants, if you haven't seen them, they're new to you. With new openings in 2020 and new options on the horizon, Branson doesn't disappoint.
[embedyt] https://www.youtube.com/watch?v=lD-zTztbuYU[/embedyt]
What's New in the Attractions?
In November 2020, the Aquarium at the Boardwalk opened its doors to the public. Visitors will be enthralled with the beautiful fish and completely entertained with fun experiences throughout their visit. There are so many other features guests can expect to enjoy.
It begins with 10 zones full of fish and fun. More than 250 animal species are dwelling in the 400,000 gallons of salt water. Sharks, seahorses, stingrays, lionfish, octopi and eels add up to 7,200 sea animals. A 5D submarine ride takes you to the bottom of the ocean to explore all 10 zones on your way back to the surface. The striking 16-foot coral reef, seahorse carousel and a mermaid tail and trident are all great photo ops. Giving a sense of infinite ocean life, the two mirrored art installations are not to be missed. Touch pools are a staple of most aquariums and certainly an important part of this aquarium.
Although committed to preserving ocean life, there's fun to be had at Aquarium at the Boardwalk. Frequently spotted on the Boardwalk Aquarius is a wise and helpful octopus. His buddy Finn is an adventurous golden puffer. Although first seen on the Boardwalk, Aquarius's likeness is part of the steel structure wrapped around the entrance. Aquarius brings the fun inside where he can be found hiding in fun ways throughout the Aquarium.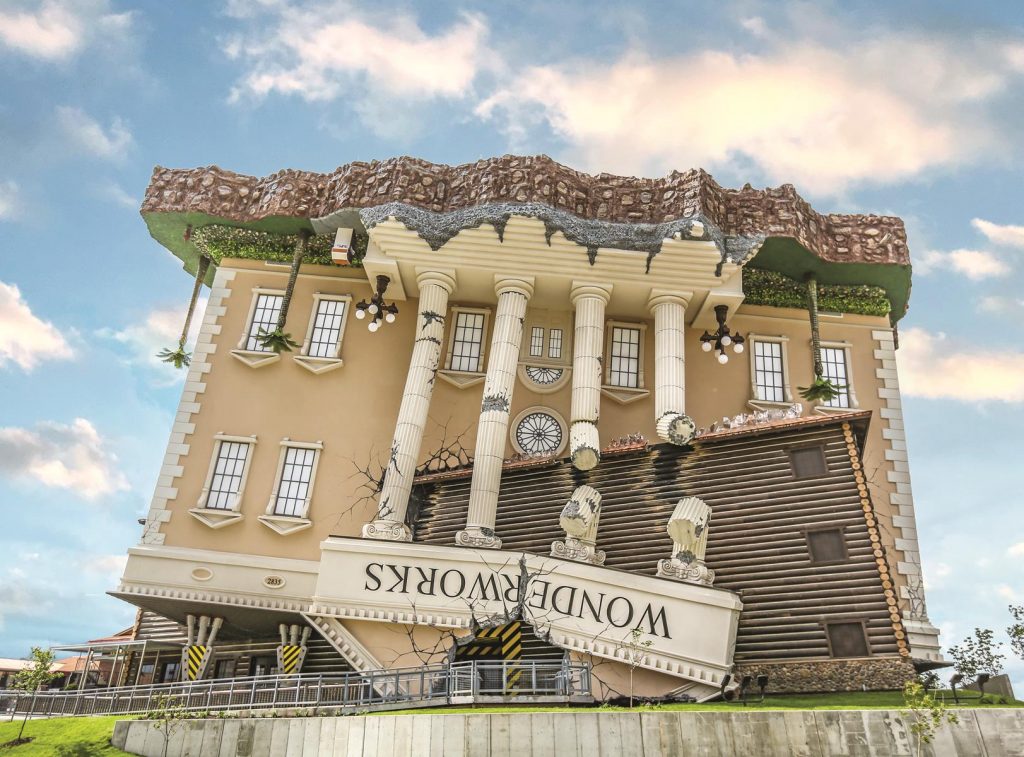 It's full steam ahead at WonderWorks. This recent addition to the Branson attractions landscape has added to its existing STEM exhibits, a new exhibit   focusing on STEAM careers. Beginning with becoming an astronaut Full STEAM Ahead features videos, demonstrations, interactive experiences and robotic arms. According to Pew Research Center, STEM-related careers have grown 79% since 1990 to 17.3 million jobs.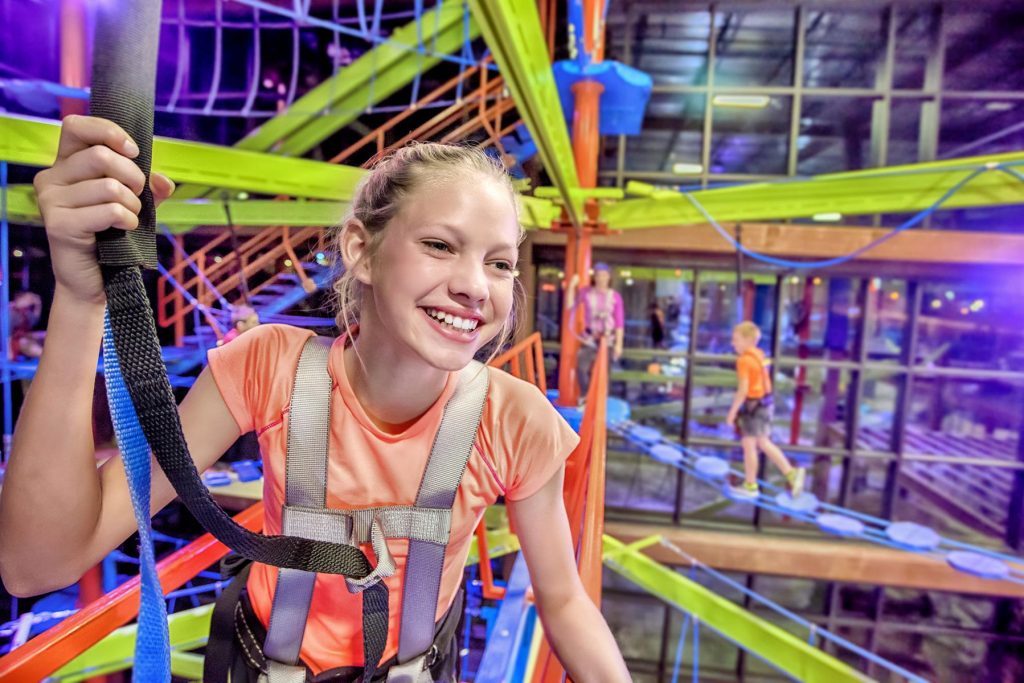 The dynamic Fritz's Adventure is where visitors of all ages and athletic ability can fly, climb, tunnel, jump, run, slide, rappel and zip.  In November 2020, it added new components including 300 feet of new tunnels, 32 new obstacles, 11 new ziplines, six new bridges and two new drops to its 80,000 square feet space. Stay tuned in late Spring Fritz's Aerodium reopens with a unique, outdoor flying experience.
Ready for the 2021 season is a new multi-million-dollar attraction that has opened at Beyond the Lens. FlyRide is a fun-filled ride allowing passengers to experience the thrill of flying as they soar above more than 20 of America's national landmarks.
It's Showtime in Branson
JESUS will be live on stage at Sight & Sound Theatre March 13 – December 31. JESUS is a musical stage adventure with massive sets, special effects and live animals taking the audience from Jerusalem to the Sea of Galilee. Journey alongside the most famous person ever to walk the earth witnessing miraculous historic events.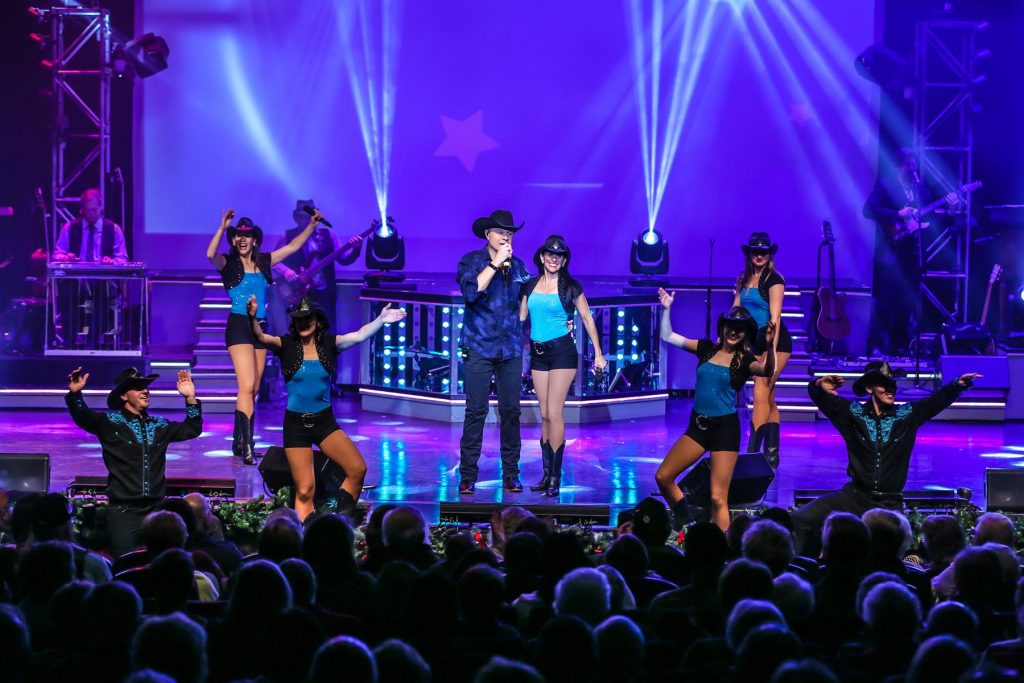 Elvis is in the building. The Clay Cooper Theatre welcomes Dean Z – The Ultimate Elvis, March 5 -December 29. The hit international touring production Dean Z – The Ultimate Elvis is a journey of the King of Rock n' Roll's two-decade career from the 1950s to the 1970s. The production boasts a powerful 10-piece band with horn section, vocalists and immersive video.
Mickey Gilley Grand Shanghai Theater is presenting a new show Shanghai Circus Amazing Acrobats of Shanghai. When acrobats need a night off, there are performances scheduled with Mickey Gilley & Johnny Lee, the amazing Texas Tenors and popular illusionist Rick Thomas.
The Branson entertainment scene welcomes Escape Reality Magic and Illusions Dinner Show to Branson Central Theatre. Carson Entertainment has produced magic illusion shows in Las Vegas and now Branson. Enjoy a wonderful dinner and exciting show.
We're celebrating those classic, No. 1 hits from the 1970s at King's Castle Theatre. Dancing Queen celebrates the disco classics with high-energy singers and dancers. You're sure to recognize "Disco Inferno," "Play that Funky Music," "Y.M.C.A." many more No. 1s.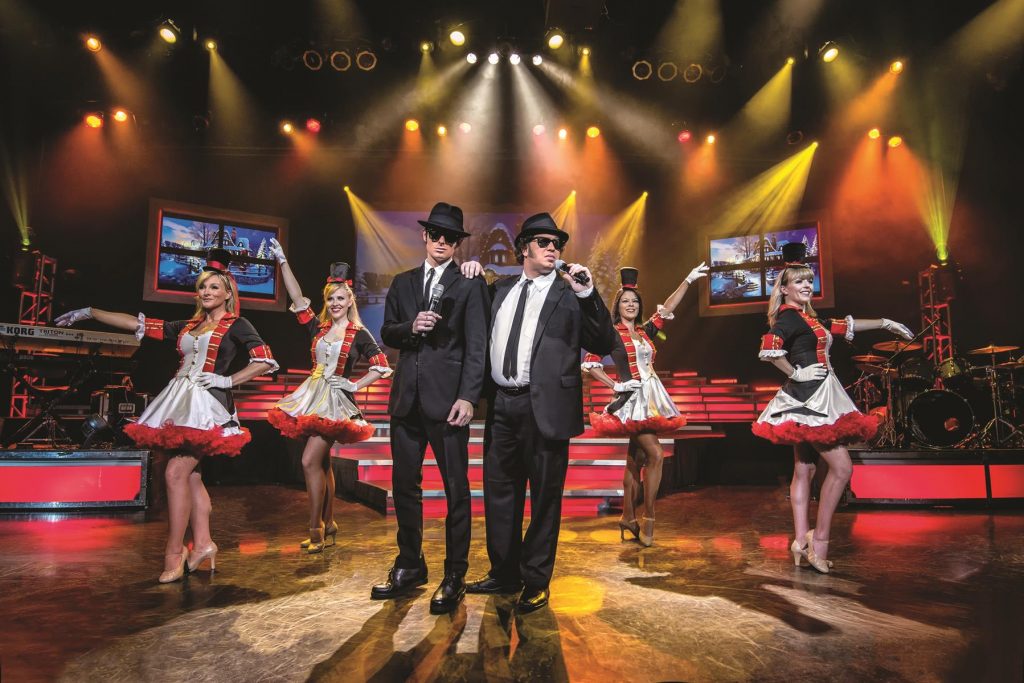 There's still more! Legends in Concert is introducing their new Legends of Country Music show in 2021. Catch your favorite legendary country performers at Dick Clark's American Bandstand Theater, Sundays at 3 p.m. Earlier this year, Katie Petersen, the oldest Petersen sibling and the Petersen group's musical leader, married Michael Haygood of The Haygoods. Watch for some duet performance dates.
Looking to Add an Outdoor Option or Two?
Johnny Morris' Top of the Rock Ozarks Heritage Preserve might be the place to start. Sitting on the highest point in Taney County, the views are spectacular. The Lost Canyon Cave & Nature Trail Cart Tour is an unforgettable two-mile journey on an electric cart. The dramatic trail features stunning rock formations, waterfalls and magnificent views of Table Rock Lake. Package an Adventure Pass and Cart Tour with the onsite Ancient Ozarks Museum, or build an Explorer Pass by adding Dogwood Canyon Admission and Wonders of Wildlife in Springfield, Missouri admissions.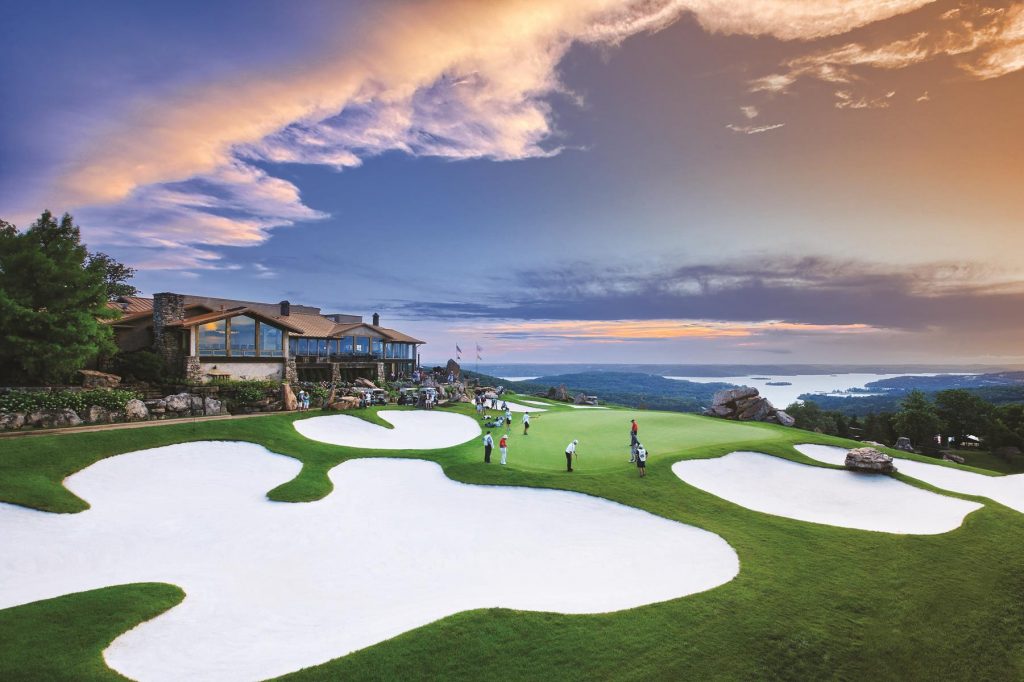 Top of the Rock is becoming one of America's great golf destinations. Payne's Valley Golf Course, designed by Tiger Woods, is an inviting layout that pays tribute to Ozark native Payne Stewart. The 19th hole is spectacular and has nothing to do with cold beer. Ozark National is a Ben Crenshaw design on a magnificent piece of land. Buffalo Ridge Golf Course is one of the region's top golf courses designed to bring the player in close contact with nature. Native grasses and free roaming buffalo from nearby Dogwood Canyon give this Tom Fazio design a unique perspective. Conservationist Johnny Morris and legendary golfer Gary Player created this world-class short course. It's perfect for playing on day of arrival. Top of the Rock Golf Course is a Jack Nicklaus signature course that features nature and golf at its best.
Dogwood Canyon Nature Park is 10,000 acres showcasing the beauty and serenity of the Ozark Mountains. Explore by hiking, biking, horseback riding or the wildlife tram tour. Regardless of the season, Dogwood Canyon has special events and offerings throughout the year.
At Branson Landing, a shopping, dining and entertainment complex, the Branson Amphicar Tours provide a new adventure and way to explore Branson Landing. The classic antique, amphibious Amphicar is guided by an experienced captain and provides a memorable experience. Also from Branson Landing, you can enjoy the beauty of Lake Taneycomo with Main Street Cruises. Lake Queen is a modern-day recreation of a grand Mississippi Riverboat, while Landing Princess is a luxury dinner cruise.  Either is a great way to see the spectacular merging of fire, water, music and light daily Fountains Show.
New Dinnertime Options, Branson Style
Branson Restaurants, Inc. known for award-winning dining venues McFarlain's Family Restaurant and Florentina's Ristorante Italiano, has announced HEROES Tastes + Taps will be opening Spring 2021. The cuisine will be classic and elevated American with up to 24 beers on tap. The atmosphere is designed to highlight and honor heroes from all walks of life.
The Mayor of Flavor Town has opened Guy Fieri's Branson Kitchen at Branson Landing. The chef's signature bold flavors will be on display, including signature sandwiches, scratch-made entrees, house smoked meats and mouthwatering desserts.
Great American Steak & Chicken House, the one with the gigantic chicken by the highway, is exploring a new concept. More will be announced at a later date. Not to worry, the sizzling steaks and fresh broasted chicken are not going anywhere.
---
[optin-monster slug="f1pwqut5rzpq40jfpmdy"]