Did you know "The Star-Spangled Banner" was originally titled "Defense of Fort McHenry"? While it may not have the same familiar ring to it, the original title speaks to the historical significance of Baltimore's famed Fort McHenry.
It was during the War of 1812 when British forces attacked Fort McHenry that Francis Scott Key was inspired to pen America's national anthem. Exploring Fort McHenry is like taking a step back in time, revisiting and remembering the early struggles and principles our country was founded on.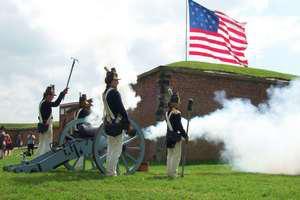 Fort McHenry was a prison for Confederate soldiers during the Civil War and a training camp for the 6th US Artillery during the Spanish-American War in 1898, finally becoming a national monument and historic shrine in 1939. The Visitor Center has museum exhibits, including an electric battle map and military memorabilia. A 10-minute movie describes the Battle of Baltimore and the writing of "The Star-Spangled Banner" in 1814. Visitors can tour the restored barracks.
Throughout the year, special events and activities are offered at the National Park Service site. These include living history weekends during summer, with the Fort McHenry Guard performing drills and musket and artillery demonstrations.
From spring through fall, visitors can travel to Fort McHenry by water taxi or boat from several locations on Baltimore's Inner Harbor.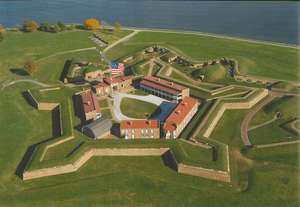 It's requested that groups at Fort McHenry National Monument and Historic Shrine make reservations at least three weeks in advance. Groups may take a guided tour or explore on their own. They can watch the daily flag change at 9:30 a.m. or 4:20 p.m.
Also in Baltimore is the Star-Spangled Banner Flag House, the 1793 house where Mary Pickersgill made the 15-star, 15-stripe flag that inspired Francis Scott Key to write his famous poem (later set to music). The Great Flag Window in the adjacent museum is a replica of the original flag.
The War of 1812 bicentennial launch will be highlighted from June 13-19, 2012, with Star-Spangled Spectacular 2012, a week-long celebration with ship tours, Blue Angels air shows and other group-friendly activities.