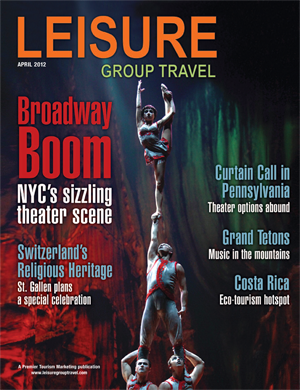 Leisure Group Travel's annual theater issue spotlights live entertainment options around the United States, from New York City to Wyoming.
In "Broadway Boom," managing editor Randy Mink looks at the hottest shows on the Great White Way. This spring's lineup includes revivals of Jesus Christ Superstar and Evita along with new entries like Ghost the Musical and the Gershwin musical comedy Nice Work If You Can Get It. A companion article singles out 10 iconic NYC sights.
"Curtain Call in Pennsylvania" features a variety of theatrical choices across the state, from Heinz Hall in Pittsburgh to Dutch Apple Dinner Theatre in Lancaster. "Music in the Mountains" takes a look at the Grand Teton Music Festival in Jackson Hole.
Peeks into stately homes, a staple of group tours, provide another focus in the April issue. In "Southern Mansions," senior editor Dave Bodle picks out two tour-worthy homes in each of 11 states, describing such favorites as Louisiana's Oak Alley and Agecroft Hall in Richmond, Va. Longtime Leisure Group Travel columnist Marty Sarbey de Souto, a resident of California, profiles six landmark abodes in "Historic Homes & Gardens of California."
Minnesota has a lot to celebrate this year, including the 75th anniversary of SPAM and Mall of America's 20th year. Read all about these and other special observances in "Minnesota Milestones."
Our "On the Record" column has some revealing comments from tour operators who answered our question about how they integrate special events into their itineraries. They mention festivals ranging from Quebec City's Carnival to the Albuquerque Balloon Fiesta.
On the international front, our Switzerland article looks at the St. Gallen Jubilee, a celebration of the city's 1,400 years of religious heritage. Written by noted travel journalist Don Heimburger, the article offers other ideas for religious travel groups in Switzerland and is accompanied by a sidebar on adventure travel.
Lance Harrell, Leisure Group Travel's director of online operations, focuses on the flora and fauna in his own back yard in "The Essential Costa Rican Nature Experience." Lucky Lance lives in Costa Rica, an eco-tourism hotspot.
Features
View the Digital Flipbook Version Below