Celebrating 18 years as a leader in the river cruise industry, AmaWaterways plans to introduce three new river ships in 2021. The AmaLucia and AmaSiena will join its European fleet, and the AmaDahlia will be sailing on the Nile River beginning September 2021.
AmaLucia and AmaSiena – New Sister Ships Sailing in Europe
In 2021, the AmaLucia and AmaSiena will sail the Danube, Rhine, Main and Moselle rivers. Accommodating 156 guests, these sister ships feature luxury amenities, connecting staterooms and generous personal space. Enjoying AmaWaterways' award-winning dining, guests can enjoy The Chef's Table specialty restaurant as well as the regionally inspired cuisine in the Main Restaurant.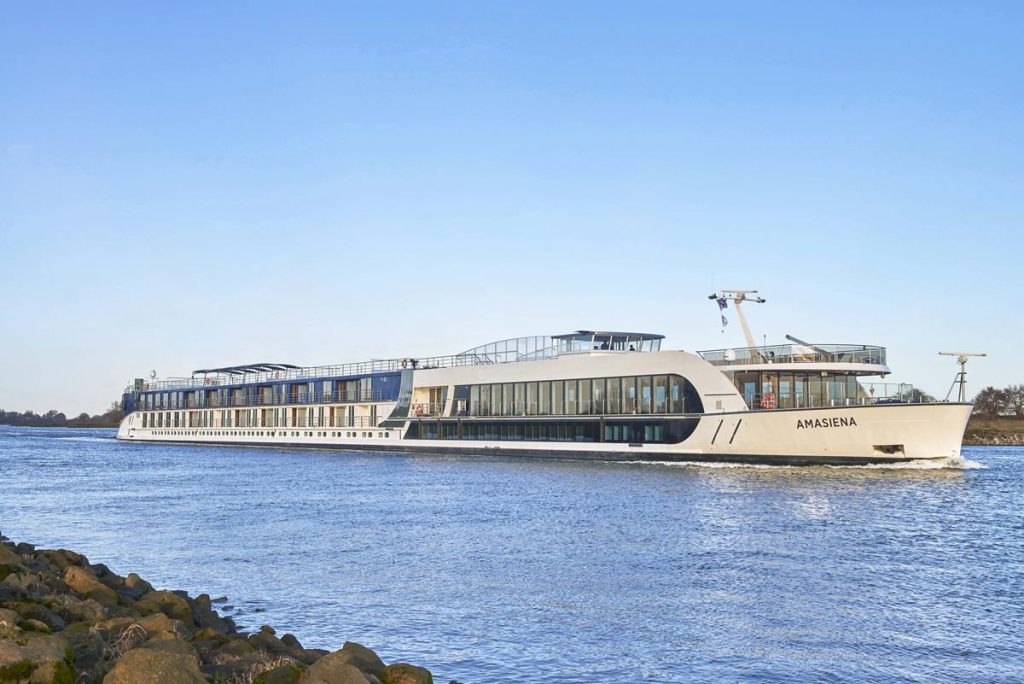 Other areas on the AmaLucia and AmaSiena include the Observation Lounge, Main Lounge and Bar, Firestone Library, Fitness Center and Sauna, Wine Bar and Sun Deck. The top deck has a pool, Jacuzzi, loungers, shaded relaxation area and swim-up bars. There is also a walking track, giant chess and a putting green.
Guests can enjoy a wide range of included shore excursions, with some involving wellness activities such as biking and hiking options.
AmaDahlia – Sailing on the Nile River in 2021
The new, luxurious  AmaDahlia will start sailing on the Nile River in September 2021. Accommodating just 68 guests, the AmaDahlia will feature 34 staterooms, 24 which are spacious balcony suites measuring up to 430 square feet.  The AmaDahlia will have a swimming pool and sun deck bar, a fitness center, two massage room, and a hair and nail salon. Guests will enjoy two restaurants onboard –  The Chef's Table, which offers a seven-course tasting menu, and the Main Restaurant. Nightly evening entertainment includes a Darawish show, a Belly Dance Show and a Galabeya, which is a traditional Egyptian gown party.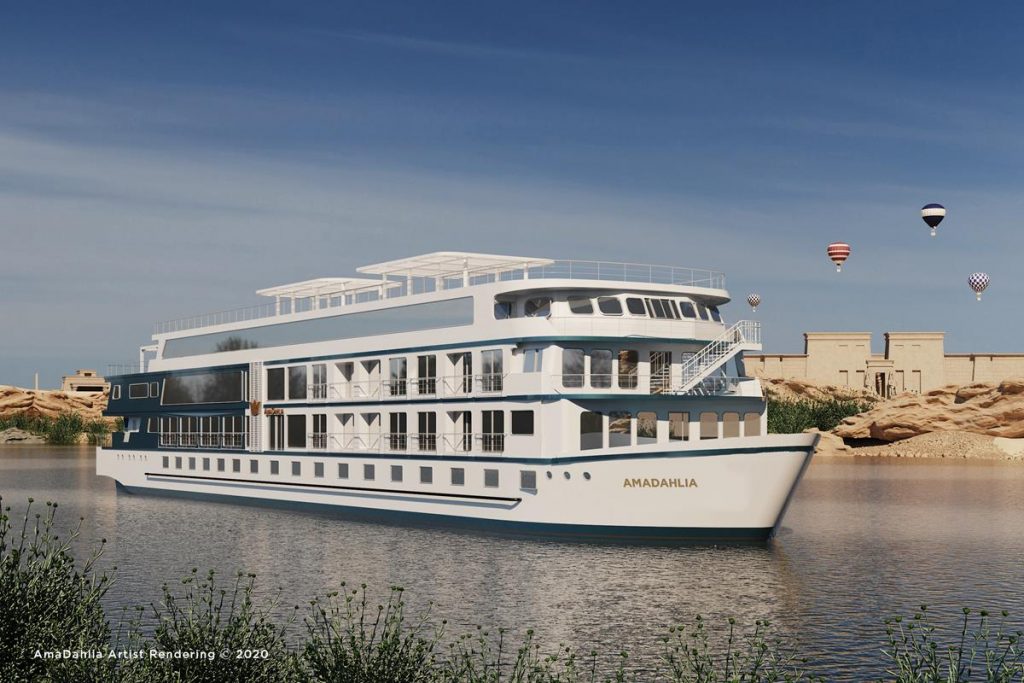 As far as her itineraries? The AmaDahlia will be offering an 11-night cruise and land adventure that will include a seven-night round trip cruise from Luxor. And it will be paired with a three-night pre-cruise stay and one-night post-cruise stay in Cairo. Accommodations will be at the five-star Four Seasons Cairo, at The First Residence. The 11-night cruise and land adventure will also offer optional extensions. The optional pre-program includes three nights in Dubai or four nights in Jordan (Amman and Petra.) And the optional post-program includes four nights in Israel (Jerusalem).
Guests sailing on the AmaDahlia's "Secrets of Egypt & The Nile" itinerary will be able to enjoy the ancient wonders of Egypt, experiencing many legendary locations, some that are designated UNESCO World Heritage sites. And  they'll also enjoy the luxury onboard experiences that AmaWaterways is known for. This itinerary will operate seasonally from September to May each year.
More About  AmaWaterways
Family-owned AmaWaterways began in 2002 and was founded by Rudi Schreiner, Kristin Karst and the late Jimmy Murphy.
As president, Schreiner brought his expertise in architecture and hi background in helping start the North American operations of other major river cruise companies. Karst, executive vice president, brought her extensive experience in travel, customer service and river cruising to AmaWaterways. Murphy brought his Hd success in his previous role building  Brendan Vacations into one of the most successful tour operators in the U.S. Murphy's son, Gary, who had also helped build Brendan Vacations, joined AmaWaterways and now is its senior vice president of sales.
Since starting 18 years ago, AmaWaterways has continued to grow with its custom-designed ships. When talking about AmaWaterways in interviews,  Karst will mention that the word "Ama" means love. And for AmaWaterways, she mentions that it is love for the guests, crew members, employees and travel partners. Building one-of-a-kind ships providing special features is what has made AmaWaterways more distinctive and is a core of its success.
Having high-quality, locally sourced food and wine, elegantly designed ships where guests can enjoy maximum views to enjoy the countryside, outstanding crew members and special inclusions is at the heart of AmaWaterways. It offers a variety of  themed sailings, plus ones geared towards active travelers and families, with group and charter options. AmaWaterways has won countless awards and continues to grow, providing wonderful river cruising experiences.
---
Cindy Bertram has 15+ years of cruise industry expertise in marketing, content creation, sales and training as well as social media. Her MBA from Loyola University Chicago complements her high creative edge and liberal arts BA. She can be reached at cindy@ptmgroups.com.