AmaWaterways introduces a game-changer
AmaWaterways' newest river ship, the AmaMagna, joined the fleet in May, sailing on her inaugural voyage from Vilshofen, Germany to Budapest, Hungary. Combining his architecture expertise with his passion for river cruising, AmaWaterways' president and co-founder, Rudi Schreiner, worked for several years on the concept, design and building of the AmaMagna. The vessel is twice the width of traditional European river cruise ships but accommodates only 196 guests, just 20 percent more.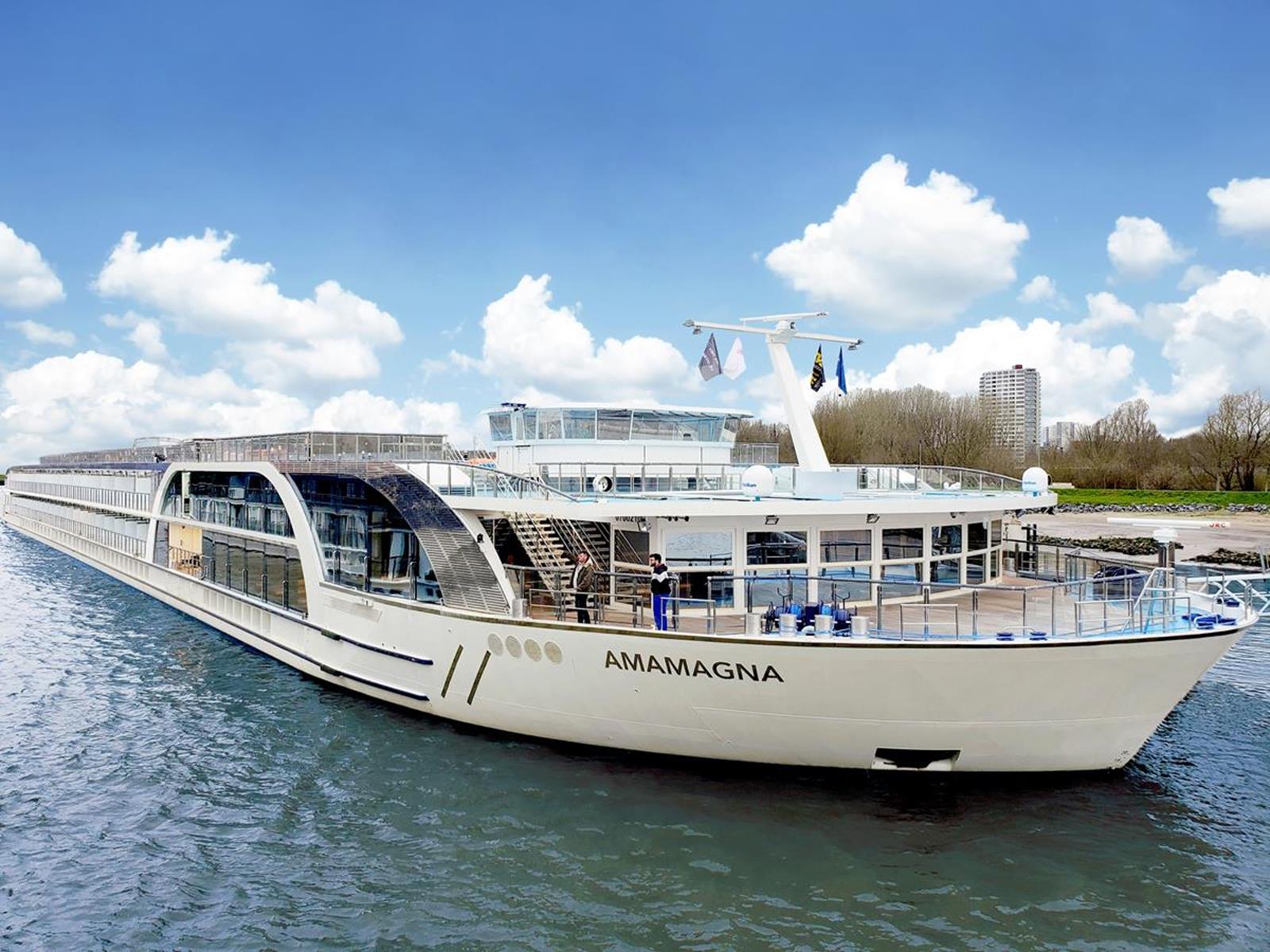 The AmaMagna, the 23rd ship in AmaWaterways' fleet, was officially christened July 11 in Grein, Austria by her godmother, Samantha Brown, an Emmy Award-winning television host and well-respected travel expert. The AmaMagna's double-width design (she's 72 feet wide) provides more personal space along with diverse dining venues and amenities. New features include the game-changing Water Sports Platform. And AmaMagna's wheelhouse has been engineered to pass under low bridges – if the water rises, she can still sail, with minimal trip interruption.
Restaurants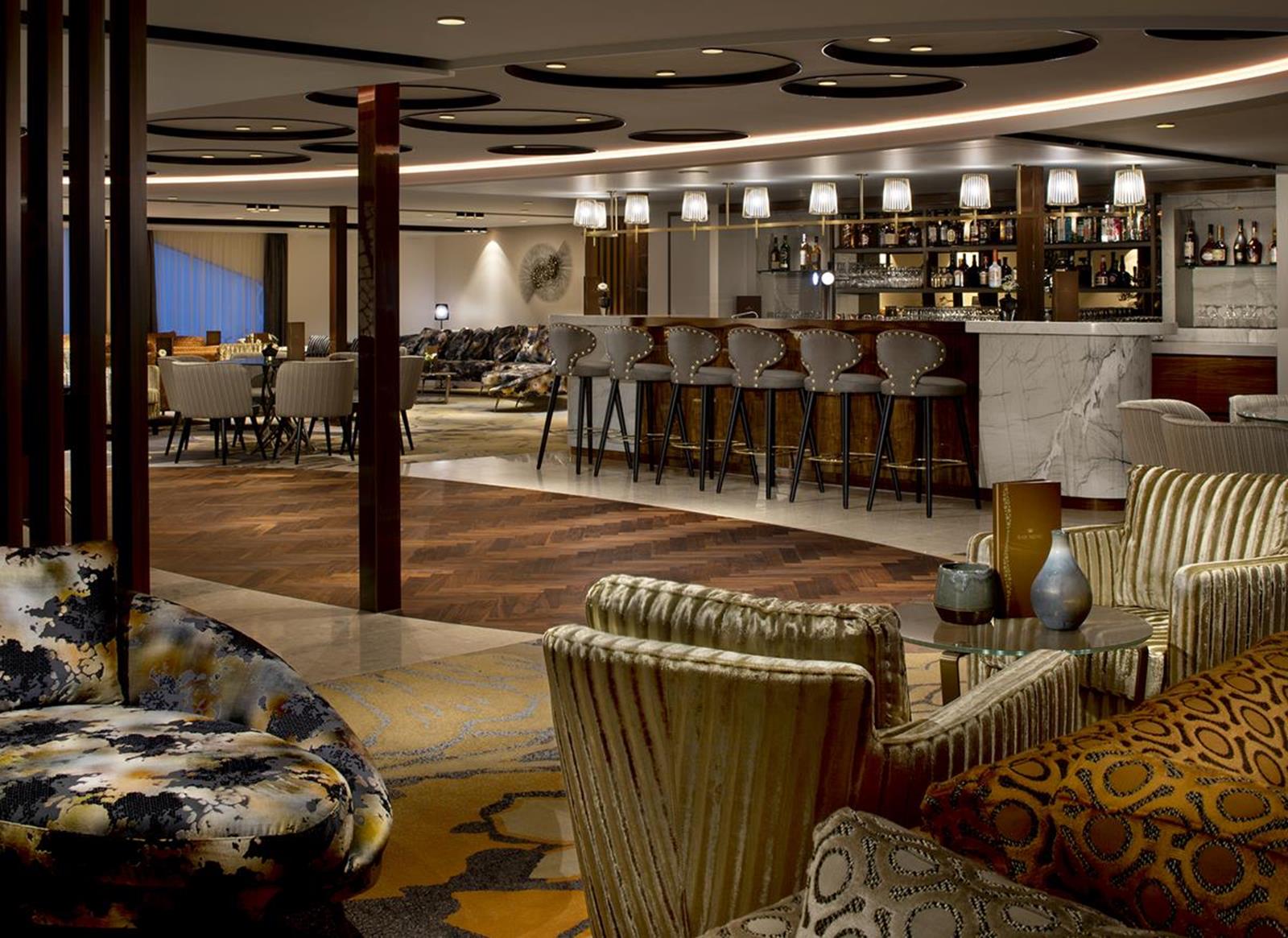 Guests have four different restaurants to choose from. These include AmaWaterways' signature Chef's Table Restaurant, where guests can watch experts create a multi-course tasting menu, which is served with local and regional wines. Al Fresco Restaurant, a glassed-in venue at the front of the ship, features retractable windows that can be opened for an open-air dining experience.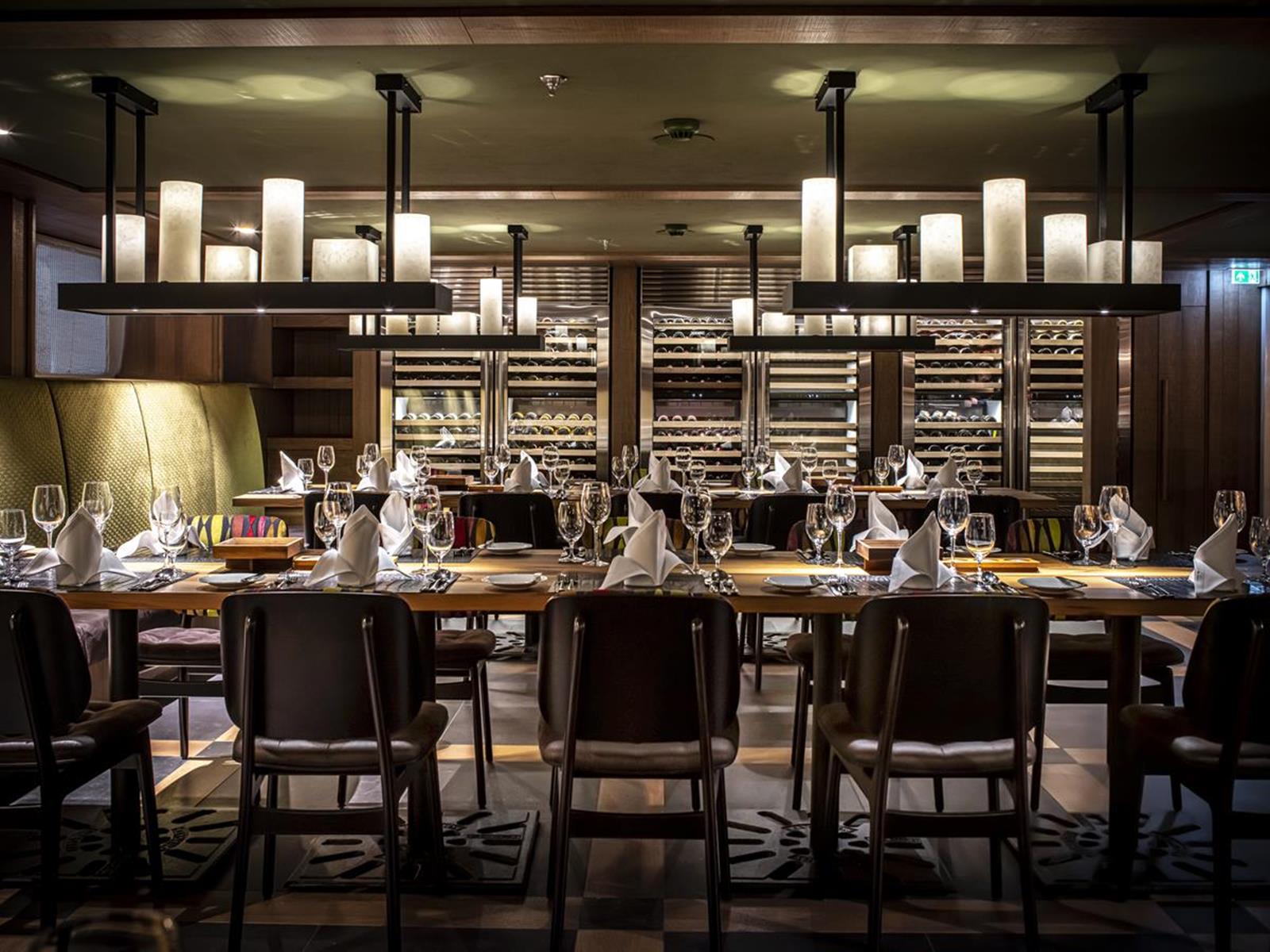 Jimmy's Wine Bar Restaurant is a unique space with wine tables, high-top tables and bar stools. For lunch and dinner, guests can enjoy cuisine that is paired with complimentary wine. It's named in honor of the late Jimmy Murphy, one of AmaWaterways' co-founders. The fourth eatery is the Main Restaurant.
Entertainment and Recreation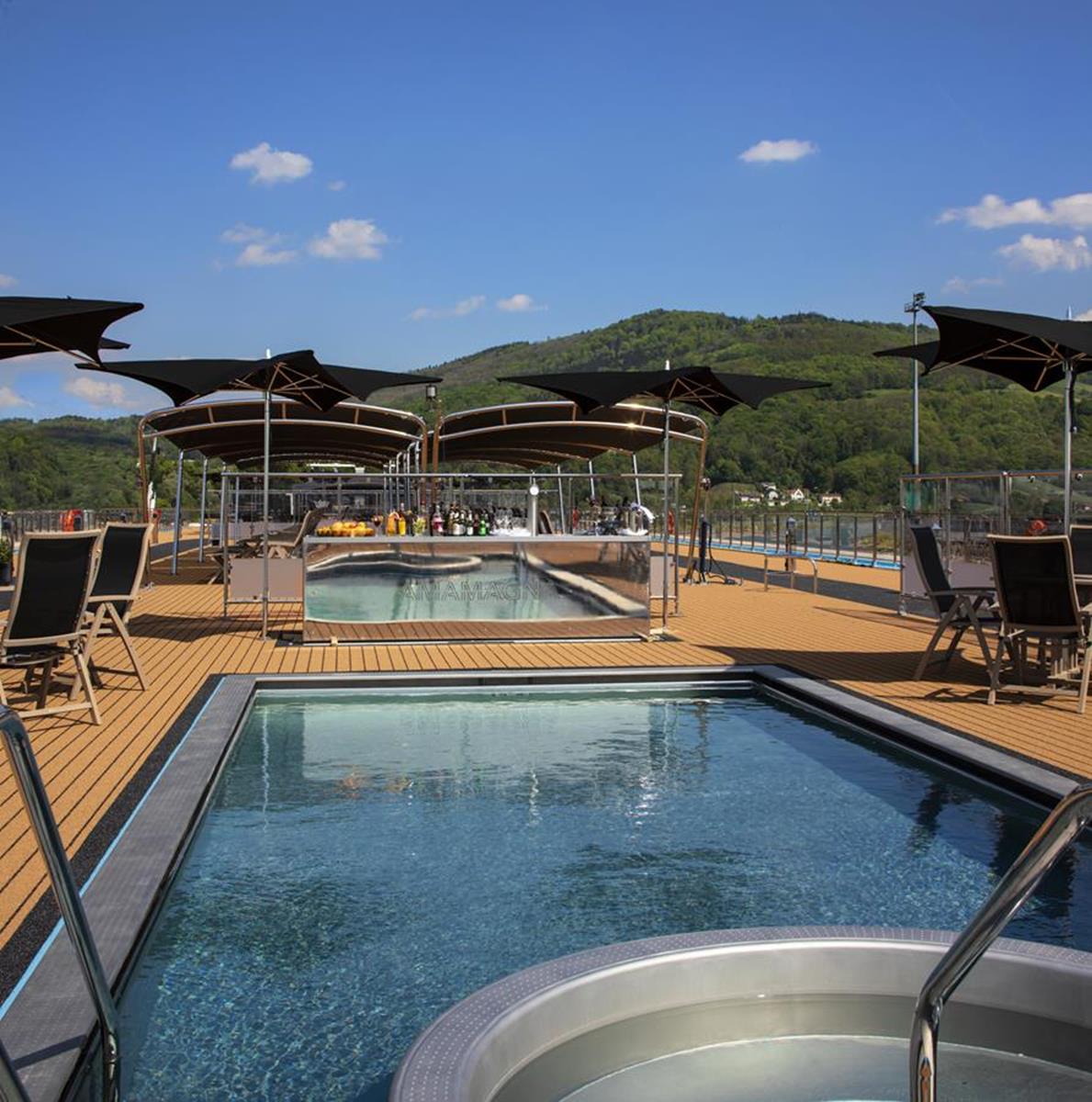 The AmaMagna has an onboard cinema, and the sun deck has a large heated pool, whirlpool and sky bar. The sun deck facilities are easily accessible thanks to an elevator that serves all four decks. A large boutique is onboard. And the Zen Wellness Studio has a large exercise area where group classes focused on cardio and core stretching, along with spin classes, are led by a professionally trained Wellness Host. The Wellness Studio has a juice bar and two massage rooms. Guests can also enjoy hair, manicure and pedicure services.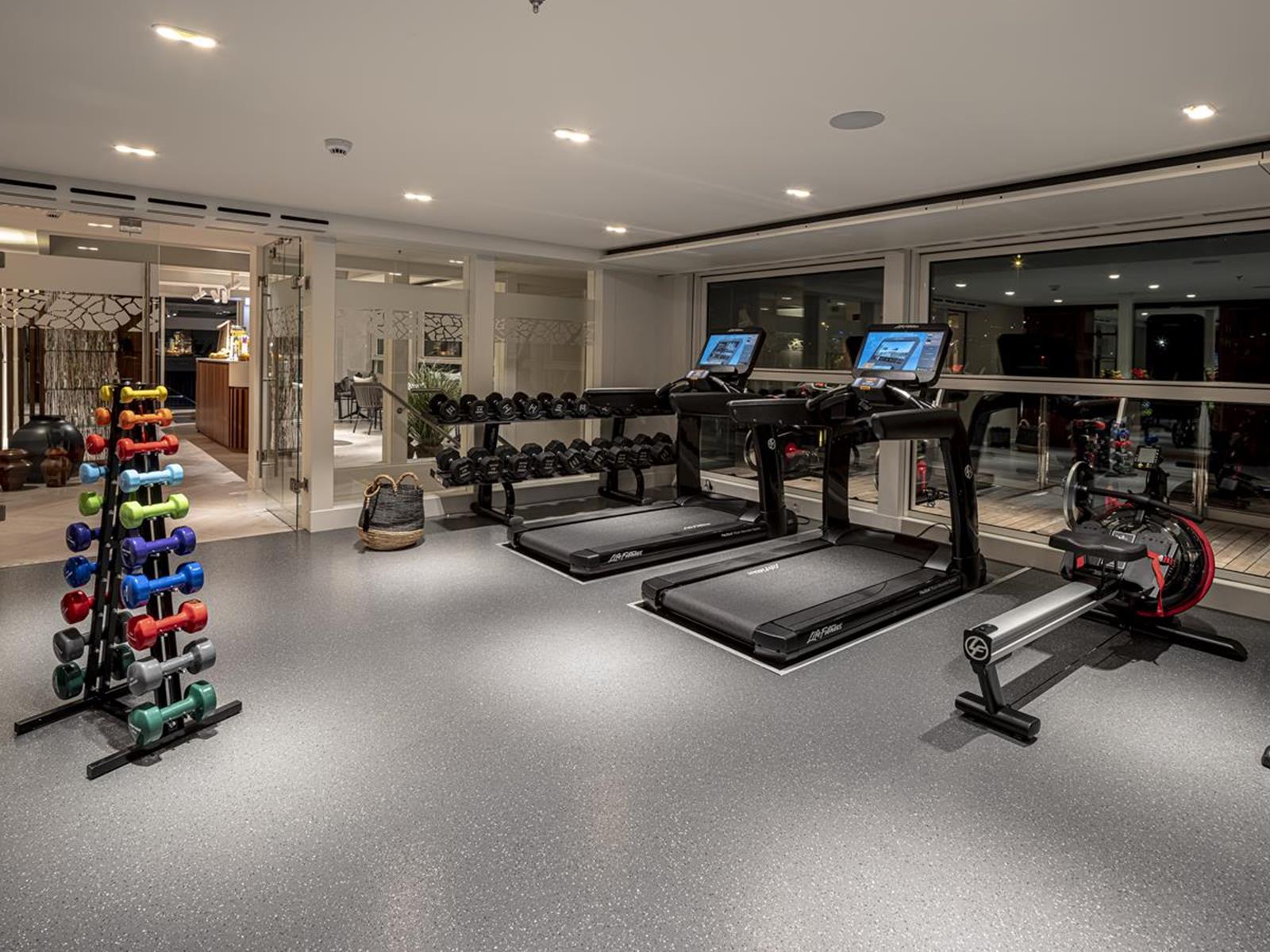 From the Water Sports Platform guests can step onboard the Sundowner vessel for complimentary excursions. The platform is the only one of its kind on the rivers of Europe.
Staterooms and Suites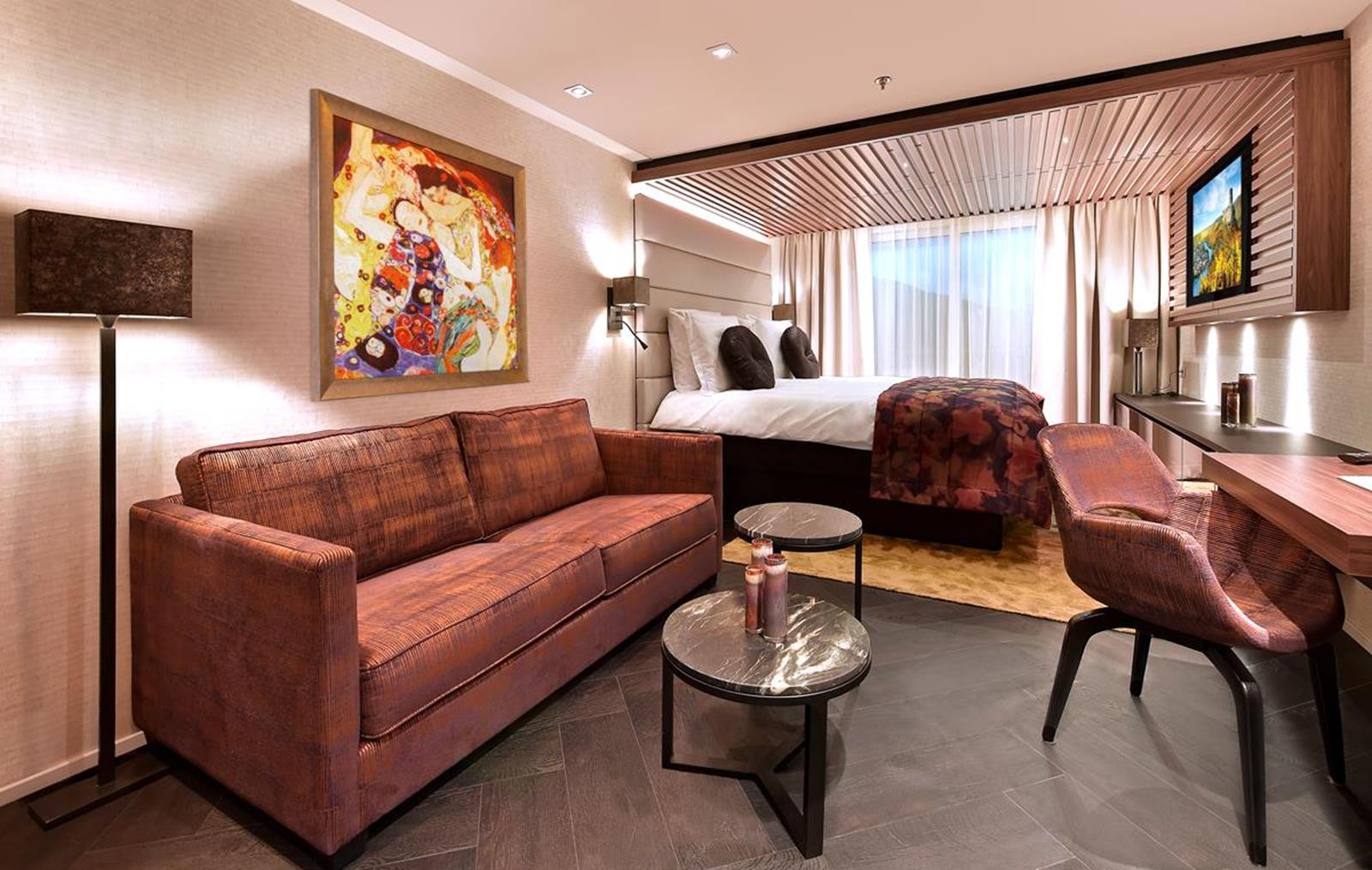 More than half of the 98 staterooms onboard are suites. These measure between 355 and 710 square feet. All the suites and staterooms have a stylish decor that includes natural wood accents. The suites have large bathrooms with walk-in showers and double sinks, full balconies and open seating areas. The six Grand Suites (474 sq. ft.) and an Owner's Suite (710 sq. ft.) have spa-like bathrooms and separate seating areas.
Exclusive to the AmaMagna
The new Concierge Golf program provides guests the opportunity to experience top-level golf courses in Austria, Germany, Hungary, Slovakia and the Czech Republic. They just have to purchase a Prague land extension. Also exclusive is the Renewal of Wedding Vows Package.
Itineraries
Itineraries for the AmaMagna in 2019 include "Melodies of the Danube," which are seven-night Budapest-to-Vilshofen cruises; "Romantic Danube," seven-night Vilshofen-to-Budapest cruises; and the new "Christmas Markets on the Danube." In 2020, the AmaMagna will offer "Gems of Southeast Europe," a seven-night Budapest-to-Giurgiu cruise (or reverse) and the "Grand Danube," a 14-night Vilshofen-to-Giurgiu cruise (or reverse.)
More about AmaWaterways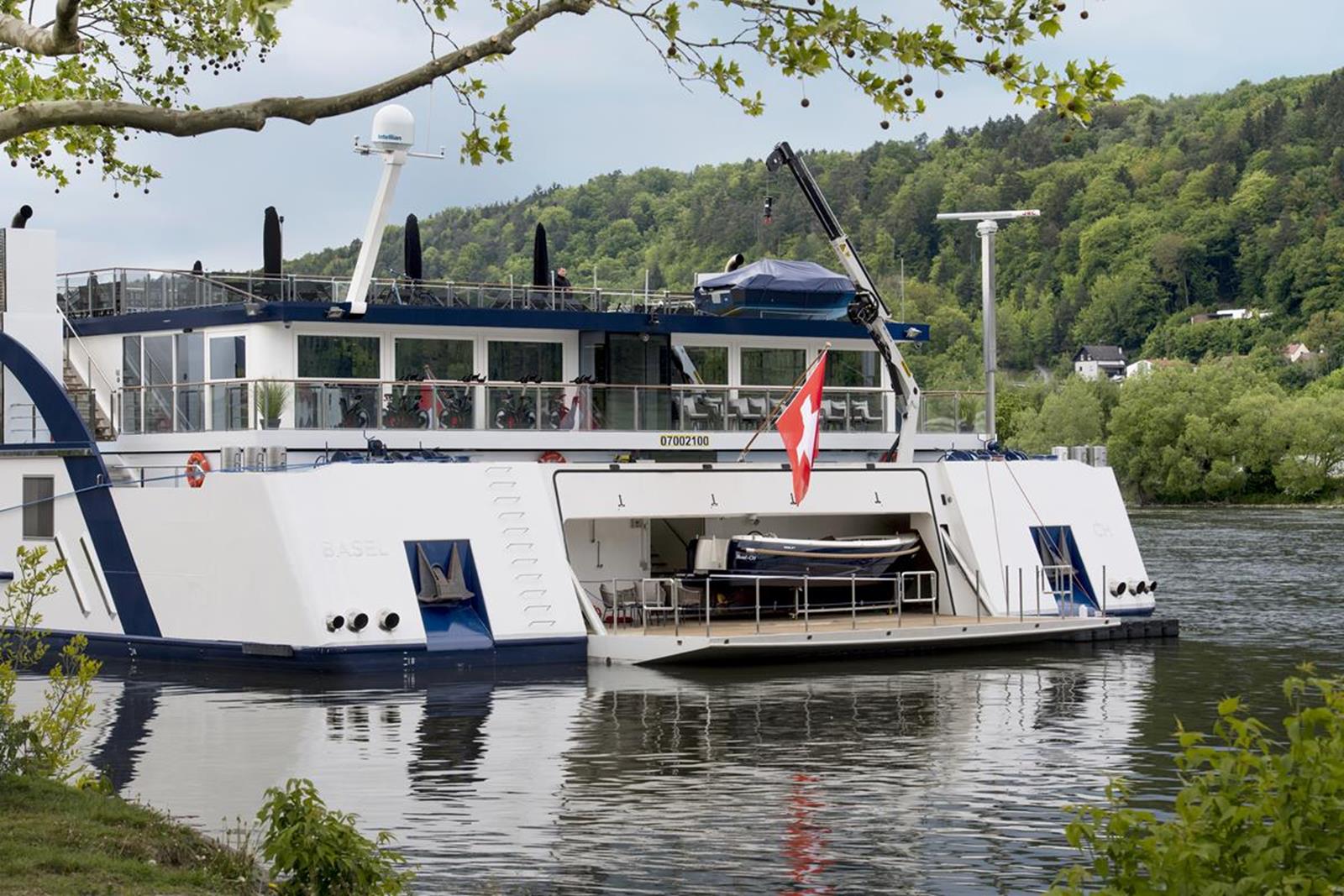 Family owned AmaWaterways is celebrating 17 years offering river cruises. The line's 23 ships sail on Europe's Danube, Rhine, Main, Moselle, Rhone, Seine, Garonne, Dordogne and Douro rivers; the Belgian and Dutch waterways; Africa's Chobe River; and Southeast Asia's Mekong River. The European fleet has been uniquely designed with a shallow draft, which permits the ships to sail in low water conditions. AmaWaterways was the first river cruise line to offer twin-balcony staterooms – a full outside balcony as well as a French balcony.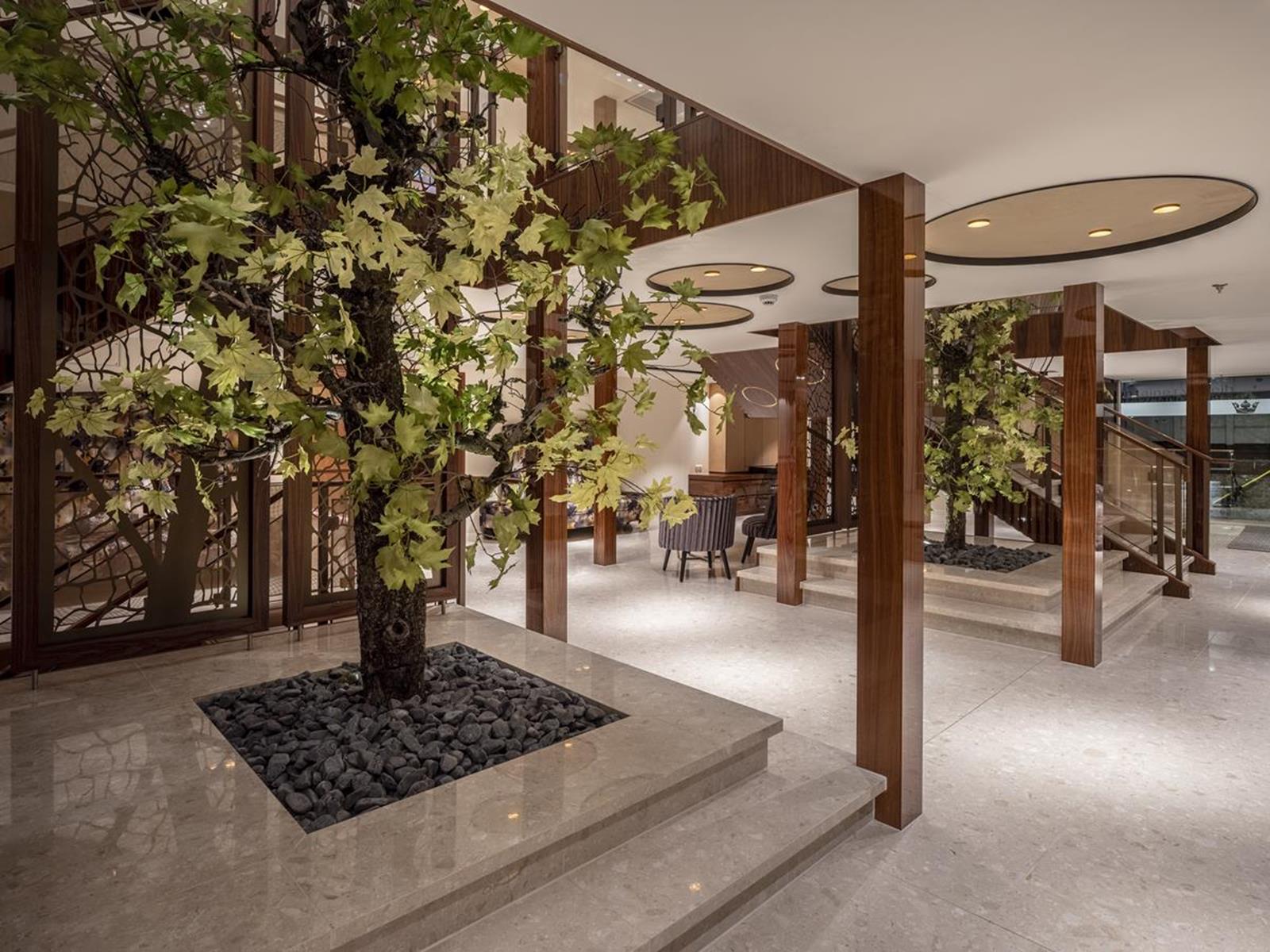 With the AmaMagna's new features and amenities as well as industry firsts, she's definitely one to consider when organizing your next river cruise group.
Photos courtesy of AmaWaterways
By Cindy Bertram
Cindy has 15+ years of cruise industry expertise in marketing, content creation, sales and training as well as social media. Her MBA from Loyola University Chicago complements her high creative edge and liberal arts BA. She can be reached at cindy@ptmgroups.com.