Groups can travel Europe's rivers in style onboard AmaWaterways' newest entry.
AmaWaterways' newest ship, the AmaKristina, brings more innovation and inspired designs to the line's river cruise fleet. She is named after Kristin Karst, AmaWaterways' co-owner and executive vice president, who served as godmother when the AmaKristina was christened May 10 in Lahnstein, Germany. The christening ceremony was part of a week-long celebration that included the company's 15th anniversary.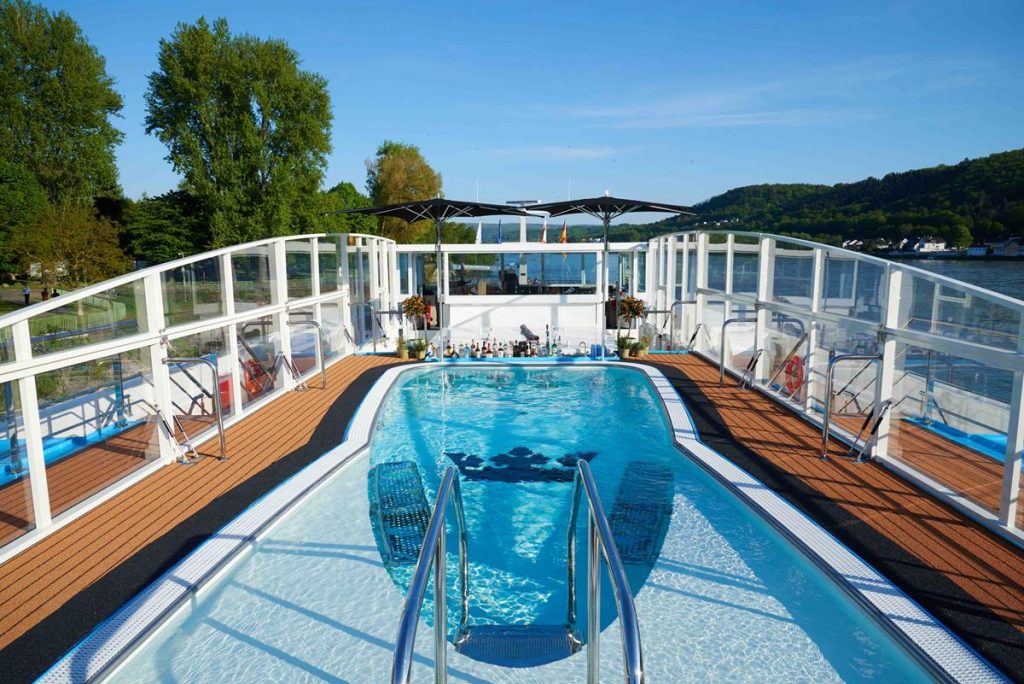 As the company's 20th ship, the AmaKristina is a sister ship to AmaWaterways' AmaStella and AmaViola. Accommodating 158 guests, with a crew of 51, the AmaKristina features spacious accommodations, including AmaWaterways' signature twin-balcony staterooms, which have French and outside balconies. The unobstructed Sun Deck features a heated pool and swim-up bar, along with an expanded fitness center. A magnificent glass elevator serves the lobby, main lounge, restaurant and staterooms on Violin and Cello decks.
Dining Venues
At the Main Restaurant, guests can enjoy multi-course dinners featuring a variety of dishes as well as specially selected regional wines. During the day, a selection of menu items as well as a buffet are available for breakfast and lunch. Sandwiches, snacks and refreshments are served daily in the Main Lounge. Unlimited soft drinks, wine and beer are included and served at lunch and dinner. Also complimentary are unlimited sparkling wines at breakfast.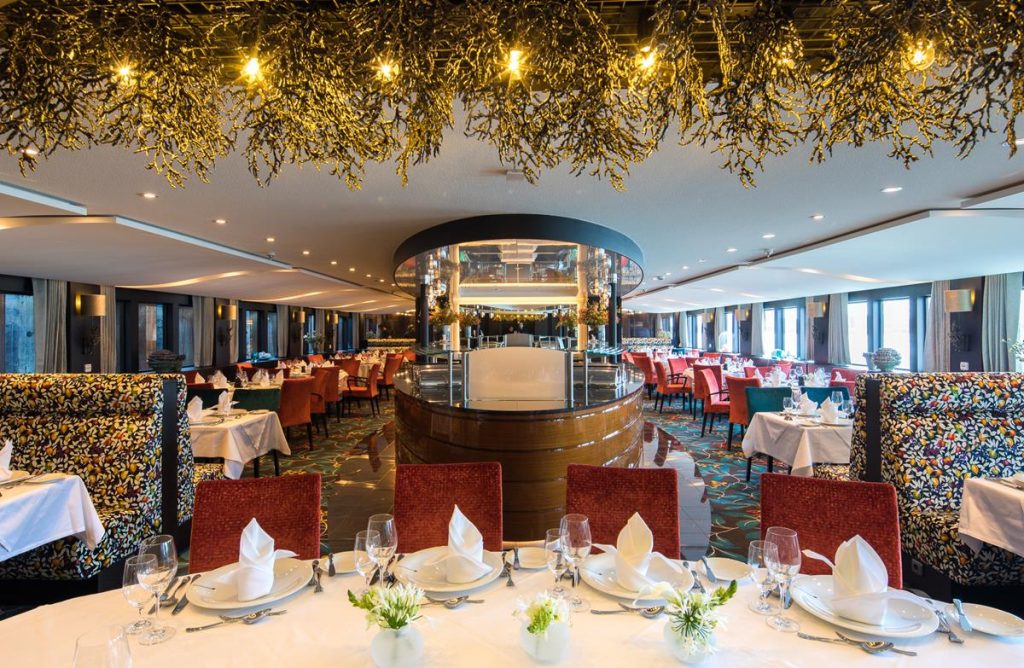 The Chef's Table specialty restaurant is an alternative to the Main Restaurant. Accommodating 30 guests, The Chef's Table provides an intimate dining experience where a multi-course tasting menu featuring 15 items is paired with regional wines. There are no charges for guests wishing to enjoy The Chef's Table.
Renowned for its excellent cuisine, AmaWaterways is the only river cruise line to ever be inducted into Chaîne des Rôtisseurs, one of the world's most prestigious culinary organizations.
---
---
Other Features
Luxurious amenities and spaciousness public areas are hallmarks of AmaWaterways. The Panoramic Lounge, besides featuring great views, has a piano and dance floor as well as a bar. Guests can also enjoy the Observation Lounge. A specialty tea and coffee station is available 24/7. In addition, a beauty salon massage services are available. Free Wi-Fi is provided throughout the ship. The decor onboard mirrors that of a modern luxury hotel.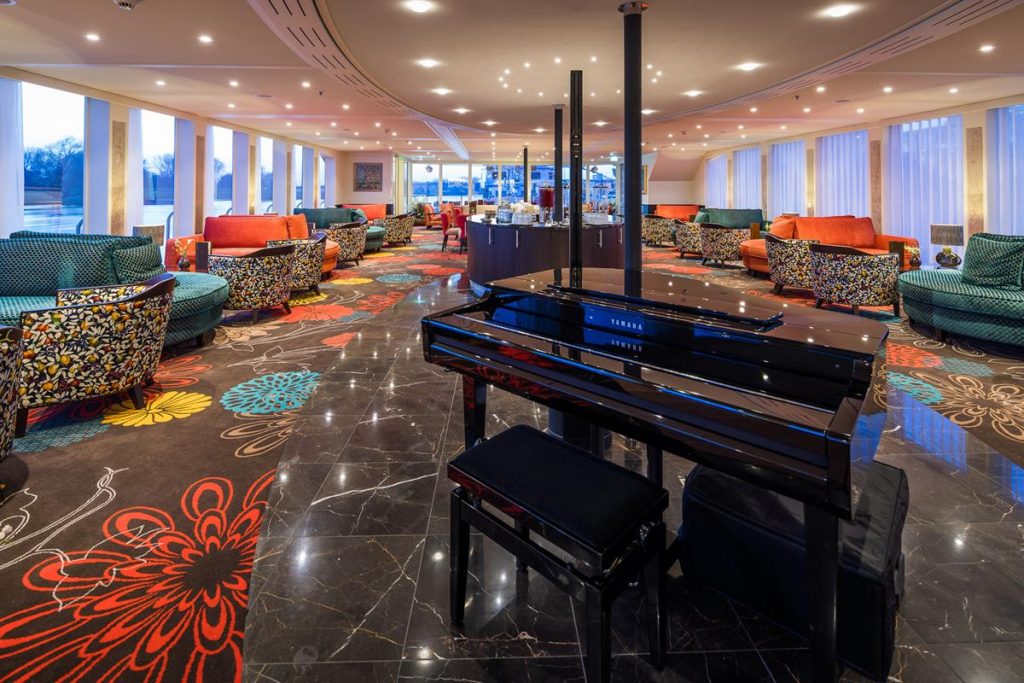 AmaWaterways was the first river cruise line to provide bikes as a standard amenity. Guests can use the bicycles to explore on their own or guided tours.
Stateroom Features
The AmaKristina features all outside accommodations, and the sitting area is a wonderful way to enjoy the scenic river views. Standard staterooms range from 160 to 170 square feet, while French balcony staterooms are 170 square feet. The twin-balcony staterooms range between 210 to 235 square feet. The extra spacious suites (350 square feet) have twin balconies, a mini-bar and a marble-appointed bathroom with both a bathtub and separate shower.
Stateroom amenities include in-room entertainment with free Internet access. Using the flat-screen TV, guests have access to local and satellite channels, and the entertainment on demand lets guests enjoy news, movies, TV and music.
Where the AmaKristina Sails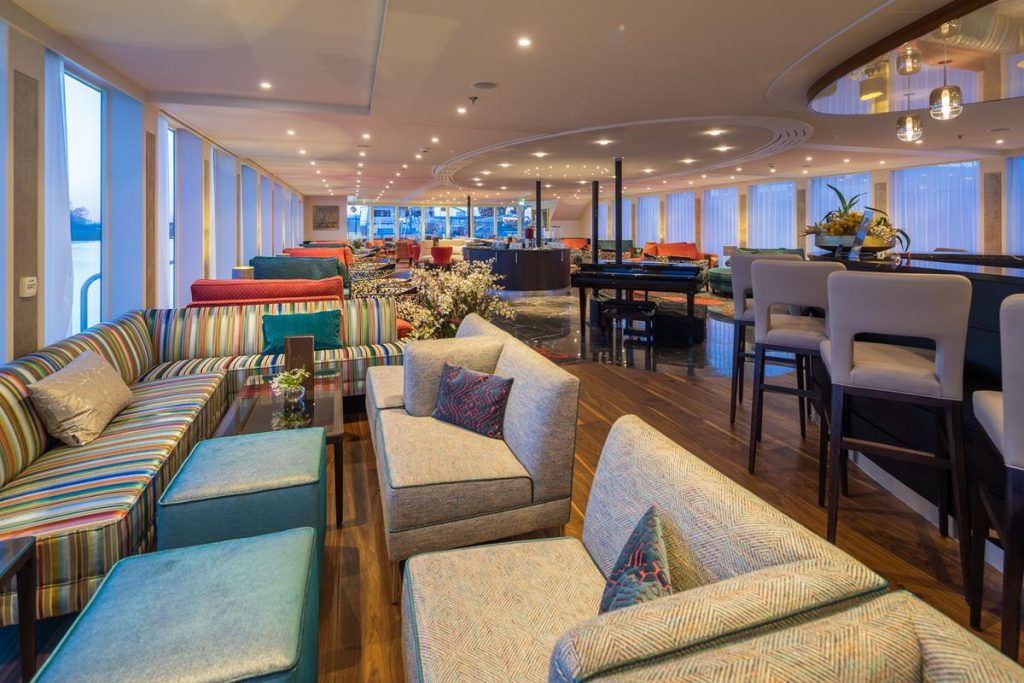 The AmaKristina sails on the Rhine River between Amsterdam and Basel this year. Her wine cruise departing on Nov. 11 offers onboard wine tastings with experts and tours that provide insights into the different grape varieties harvested along the European waterways. The AmaKristina will also have special Christmas Market cruises that start on Nov. 25.
Customized Shore Excursions for Groups – a Unique Option
On a seven-night cruise, AmaWaterways can create two customized shore excursions. This gives groups a chance to pursue their specific interests in the destinations visited.
About AmaWaterways
Celebrating its 15th anniversary, AmaWaterways was founded by river cruise pioneers Rudi Schreiner, Kristin Karst and Jimmy Murphy. AmaWaterways has become a premier river cruise line sailing on the Danube, Douro, Moselle, Main, Rhine, Rhone and Seine rivers in Europe. AmaWaterways also features itineraries in Asia and Africa under its Exotics division.
---
How to Organize a Successful Group Cruise – What's Inside:
Cruising is one of the most popular group options available today, but with the continual expansion of the cruise industry—new lines, more ships, more port options—planners are faced with a lot to sort out. This detailed ebook includes overviews of the 27 biggest cruise lines, how to choose the right cruise itinerary and ship, and insider tips. How to make the right choices during the planning process, including booking space and extra incentives and perks, are at your fingertips.
Why Cruises Make an Excellent Trip Choice for Your Group
Key Things Involved When Booking Your Group
Choosing a Cruise Itinerary & the Right Ship
15 Key Considerations When Selecting a Cruise
Some Perks Involved When Booking a Group
<<<< Click the Cover to Download Instantly for FREE
---