It's no surprise that "Alaska" is the Aleut word for "great land." Seasoned and novice adventurers alike can attest to the rich natural landscape, from the millions of lakes and rivers to the dizzying heights of Alaska's steepest mountain peaks.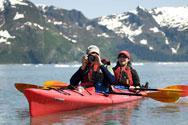 The great outdoors is Alaska's claim to fame and most precious possession, and groups will find no shortage of day, week or multiple-week excursions to tempt the adrenaline junkie within. Consider it the United States' own rustic backyard—worlds away, but no passport required.
Living among the flora and fauna is one of the main draws of an Alaskan adventure trip. There are countless group tours to choose from, many of them complete with lodging or camping packages. Alaska Adventure Tours (travelalaskaoutdoors.com) and CampAlaska Tours (campalaska.com), both in Wasilla, are set up to work with groups of 10 or less people. On tours ranging from one to three weeks, the campers experience remote trails, glacier hiking, a soak in hot springs, fishing and animal watching.