Working farms, historical farms and John Deere factory tours are some of the Iowa agritourism opportunities for groups
Because many folks these days are several generations removed from even knowing anyone who has farmed, excursions into the Iowa countryside can be eye-opening additions to any itinerary. Farms and other ag-related attractions provide insights on the state's agricultural past and how our food is grown today. Agritourism is all about connecting travelers with life down on the farm — it's big business in Iowa.
Top agriculture-related Iowa things to do:
Hawkeye Buffalo Ranch
Tyden Farm No. 6
Nelson Pioneer Farm and Museum
Heartland Acres Agribition Center
Hansen's Farm Fresh Dairy
John Deere plant and factory tours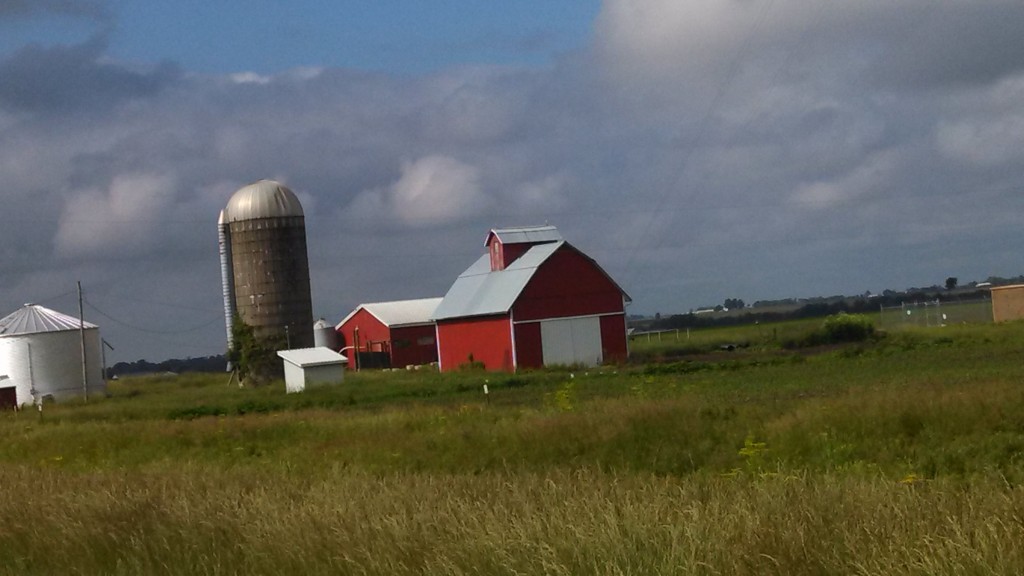 On tours of Hawkeye Buffalo Ranch, near Fredericksburg in the rolling hills and timber country of Northeast Iowa, guests on the 1.5-hour tour learn about the history of the bison and the heritage of this family farm, which dates back to 1854, when owner Dan McFarland's great-great grandfather lived in a sod house. On a wagon ride into the woods they get to hand-feed the buffalo. Tours also include a Lakota Sioux smudge ceremony, a traditional ritual of spiritual and physical cleansing.
McFarland manages the growing herd of grass-fed bison and Polled Hereford cattle with daughter Martha. "We can regularly accommodate bus tours of 40 people and serve up to 80 with special features, circulating groups by including a tour of the farm or a taste testing and demo of bison meat," says Martha. "We love having bus tours and we can always adapt to whatever a tour guide needs. Our charm is being a truly authentic farm experience—we work the buffalo first and welcome guests because we love this lifestyle and want to share it with others. Chickens will follow our guests around and you're getting the same welcome as a cousin would if they came to visit our place."
The ranch also can provide a catered meal that includes buffalo meat. Its small store sells buffalo steaks, burgers and jerky, plus farm/buffalo-themed gifts.
At Tyden Farm No. 6 in Dougherty, groups will discover one of America's true unsung innovators and his patents for inventions during his railroad and manufacturing days. The story includes how Col. Emil Tyden transformed eight farms in North Central Iowa into big operations between 1915 and 1936, providing employment to many during the Great Depression. Tyden Farm No. 6, on the National Register of Historic Places, stands as it did in 1936. Visitors see a 20-minute movie on Col. Tyden and his farms, view antique farm equipment in the Big Red Barn, and see museum exhibits of a 1940s farm family. They also enjoy the whimsical gardens and find out what a summer kitchen was like in the 1920s. A catered meal and demonstration spinning and butter making can be arranged. Complimentary cookies and drink are always served.
Nelson Pioneer Farm and Museum in Oskaloosa showcases Iowa farm life in the 19th and early 20th centuries. The 18 buildings on the grounds include the 1850s home and barn, a schoolhouse, country stores with early 1900s goods, blacksmith and stagecoach shops, a post office, log cabin and Quaker meetinghouse. Early vehicles and farm equipment also are displayed.
Agriculture's past, present and future is on display at Heartland Acres Agribition Center in Independence, just east of Waterloo. At this 16-acre complex, tour groups learn about corn shelling and dairy farming, view antique tractors and farm implements, and encounter the whole gamut of livestock, from cows and pigs to goats and chickens. The classic car museum represents a vintage gas station.
Other agritourism stops in the Waterloo area include Hansen's Farm Fresh Dairy in Hudson, a working family farm where groups can view the entire process of getting the milk from the cows to the bottle and to delivery trucks. A special hands-on tour lets guests milk a cow, feed a baby calf, make butter, and even pet wallabies and kangaroos.
In Waterloo, where many are employed at John Deere manufacturing plants, factory tours are given at the John Deere Tractor Assembly Operations and John Deere Engine Works. John Deere Tractor & Engine Museum, Hawkeye Community College Farm Laboratory and Kenny Krass' Private Tractor Collection also appear on ag-related itineraries in Waterloo.
For more travel ideas, download our current issue of Leisure Travel Guide.