Utah is a great outdoor adventure tourism destination. All four seasons allow recreational activities and sports in the state's awesome scenery.
Visitors can enjoy five national parks (Arches, Bryce Canyon, Canyonlands, Capitol Reef and Zion), several national forests and monuments, and over 40 state parks. Outdoor enthusiasts will also enjoy the many campgrounds, golf courses and ski resorts. Here are some of the outdoor options available: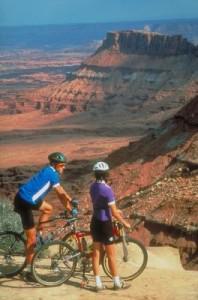 Mountain Biking
Utah's diverse geography allows for superb mountain biking trails. The best time for mountain biking is in the spring and fall, when temperatures are not too extreme. The world-famous Slickrock Trail in Moab is meant for advanced riders, though novice riders can hike the difficult parts. The Sandstone Trail is over 10 miles long and leads to superb views of mountain ranges and the Colorado River. There is also a two-mile practice trail.
Boating, Fishing and Kayaking
There are over 100 bodies of water that allow boating in Utah. One popular boating destination is Lake Powell, the second-largest manmade reservoir in America. A smaller part of 186-mile-long Lake Powell is located in Arizona. The lake is part of Glen Canyon National Recreation Area and is open to houseboats, tour boats and kayaks. Lake Powell is surrounded by beaches, canyons, sand dunes and stunning red rock scenery. Visitors can also boat, hike or horseback ride to Rainbow Bridge, a 290-foot-tall natural bridge made from water-eroded sandstone. Lake Powell is also a great location for fishing as it is famous for its bass and striped bass. Utah is well-known for the fly fishing opportunities it offers, like trout fishing in the Provo River.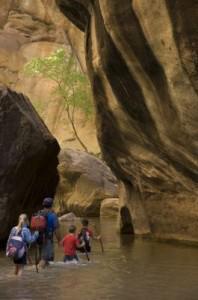 Hiking
One of the best ways to experience Utah's scenery is to hike through it. The Red Butte Garden and Arboretum is a 13-acre botanical garden five minutes from downtown Salt Lake City that offers two-mile guided hiking tours. Park City, about 30 miles southeast of Salt Lake City, has over 400 miles of scenic public trails.
Horseback Riding
Utah's canyons, mountains and valleys make it an excellent area for horseback riding. Bryce Canyon, Capitol Reef and Zion national parks are popular horseback riding destinations. Bryce Canyon Pines Resort is six miles from Bryce Canyon National Park and offers guided trail rides. The half-day ride is the most popular because it follows a trail outlaw Butch Cassidy used to escape from authorities. An all-day ride includes a stop at a famous hideout used by Cassidy. (800-892-7923, redcanyontrailrides.com)
Rock Climbing
Rock climbers will be right at home in Utah, especially in the area surrounding Zion National Park. This area, according to the Zion Mountain School, "hosts the highest concentration of rock climbing in the United States." Zion Mountain School offers rock-climbing trips and courses for groups of all ages and experience levels. (435-633-1783, zionmountainschool.com)
Camping
Thousands of sites are open to campers in Utah. Many choose to camp around the national parks, but many other camp sites offer unrivaled views and outdoor activities. RoverPass provides a campground reservation system where you can search by city. You can find campgrounds near any city in Utah, such as Salt Lake City.
Skiing
Winter sports, especially skiing, are very popular in Utah. Utah has 14 ski resorts that also offer activities such as hiking and biking in the warmer months. Canyons, Deer Valley, Park City Mountain, and Sundance resorts are all located in Park City, Utah—the home of the U.S. Ski Team. Deer Valley and Park City Mountain resorts hosted events for the 2002 Winter Olympics.
Whitewater Rafting
The Colorado and Green Rivers offer guided whitewater rafting opportunities in all five classes of rapids. Trips range from a half day to over a week long and are available for every skill level. (800-200-1160, utah.com/raft/rivers)
Golfing
The desert climate and mild winters in St. George, Utah make it a perfect place for golfing. There are 12 golf courses in a 20-mile radius. Dixie Red Hills, the first golf course St. George developed, is a local favorite. The nine holes are surrounded by red rock scenery and shade trees. Sunbrook Golf Course is nationally renowned for its 27 challenging championship holes, some of which are carved out of black lava rock and include water hazards.