SEE THIS ARTICLE IN THE MAGAZINE
by Downloading the Digital Edition

The results are in for Leisure Group Travel's 2018 Group Intentions survey. This marks the third consecutive year that we've benchmarked the group travel industry in an effort to gain insight into trends that are shaping the market. We polled readers by mail and email, asking 10 questions pertinent to their business and operations.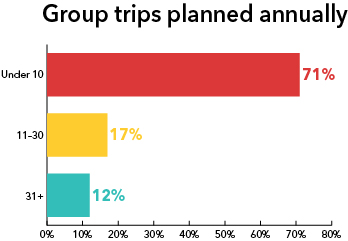 LGT Take-Away:
The majority of leisure group travel organizers are small businesses, with 71% of respondents indicating they planned 10 or fewer group trips annually. This number is relatively consistent from past years (70% in 2016 and 74% in 2017), indicating no major shifts in company size. 17% of readers plan 11-30 trips annually, while 12% plan over 30 trips.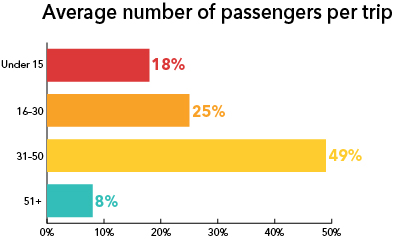 LGT Take-Away:
Small group travel is on the rise, with 18% of respondents reporting an average group size of under 15, up from 12% in 2017. This trend is permeating throughout the industry as the benefits of small group sizes make this type of travel more appealing to younger travelers. The vast majority (49%) still operate traditional-size groups of 31-50 passengers.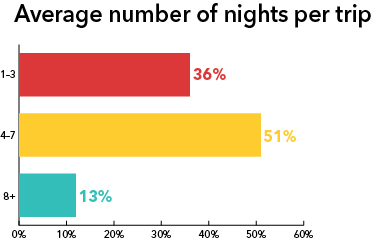 LGT Take-Away:
Shorter trips are on the rise, with 36% of trips three nights or less (day trips are not measured), up one percentage point from 2017 and nine points from 2016. Longer trips (eight nights or more) are down four percentage points to 13%.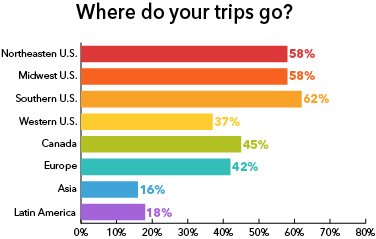 LGT Take-Away:
International travel saw significant growth, with Europe, Asia, Latin America and Canada all posting impressive gains over last year. Latin America passed Asia in terms of popularity (18% to 16%). Domestic travel in the four regions we measure was either flat or down.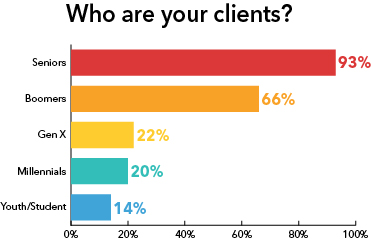 LGT Take-Away:
While seniors still dominate the customer base, passenger demographics are shifting. The percentage of baby boomer clients now stands at 66%, up from 53% in 2016 and 57% in 2017. Gen-X is also growing, now representing 22%, up from 16% last year.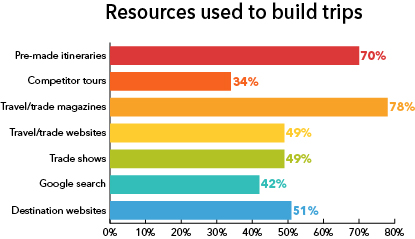 LGT Take-Away:
Google is falling out of favor, at least in terms of trip planning resources. Those relying heavily on the search engine dropped nearly 10 percentage points, while travel trade magazines such as ours climbed to 78% from 72%, and pre-made itineraries climbed to 70% from 65%.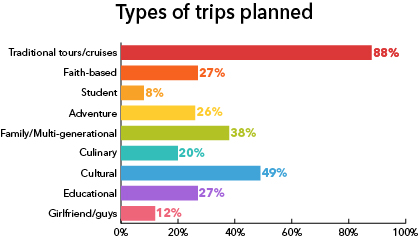 LGT Take-Away:
Leisure group travel planners operate predominantly traditional tours and cruises, with 88% of respondents offering conventional packaged group travel, up a tick from last year. Family/multi-generational and cultural trips both showed gains, while girls/guys trips hit a three-year low.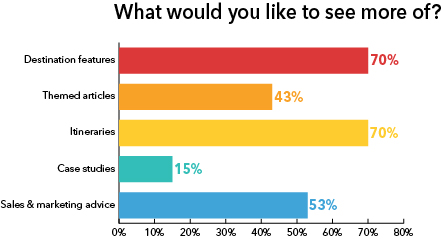 LGT Take-Away:
Finally, in an effort to tailor our editorial coverage appropriately, we asked readers what they'd like to see more of in Leisure Group Travel. Destination features and itineraries continue to be most popular, with 70% of respondents indicating they'd like to see more content like this. New this year was an increased interest in sales & marketing help, up 11 percentage points (53% from 42%) over last year.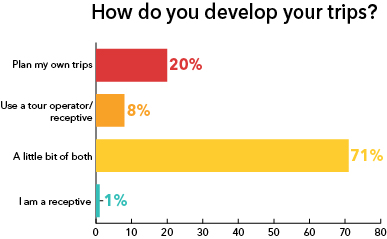 LGT Take-Away:

The number of groups planning their own tours continues to rise, with 90% of respondents indicating as such, 2.5 percentage points higher than the previous year.