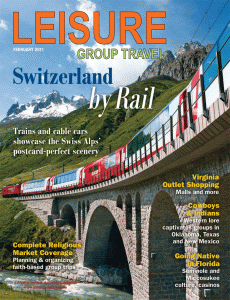 The cover story in the February issue of Leisure Group Travel highlights the many opportunities to explore Switzerland by train and cable car. Scenic rides worth writing home about include the Jungfrau Railway, which deposits passengers, after three train changes, at the Top of Europe, the highest rail station in Europe.
The Cowboys & Indians article samples Western attractions in Oklahoma, Texas and New Mexico, covering everything from ranches and rodeos to museums and Indian pueblos. The theme carries over to the Connecticut and Florida articles, which look at the often overlooked Indian heritage in those East Coast states.
Outlet shopping is the focus of our Virginia article, which explores specialty purveyors as well as major malls. The column by shopping industry consultant Carolyn J. Feimster suggests historical and cultural tie-ins with your group's shopping experience.
The subject of factory tours, another theme in the February issue, is covered by Karen Axelrod, co-author of the guidebook Watch it Made in the U.S.A. The "Made in Michigan" article singles out some of the state's best factory tours, from the Ford Rouge plant in Dearborn to the Chelsea Teddy Bear Co. Brewery tours take center stage in the St. Louis article. In the On the Record column, see reader responses to the question, "What is your favorite all-time factory tour?"
On a spiritual note, check out the stories on religious sites in Rhode Island— which boasts lots of historic churches and the nation's oldest synagogue—and Christmas in Branson, where groups tap into the season's true meaning at shows like Sight & Sound Theatre's Miracle of Christmas.
A new feature in this issue spotlights staff members and freelance writers who contributed articles, with revealing biographical notes about their professional credentials and personal lives.
Features
Switzerland by Rail
Cowboys & Indians: Oklahoma, Texas and New Mexico
Going Native in Florida
What's Brewing in St. Louis
Christmas in Branson
Made in Michigan
Virginia Outlet Shopping
Connecticut's Native American Heritage
Rhode Island's Religious Heritage
Columns
One Industry – One Show?
Report from England
History and Culture: Part of the Shopping Experience
The Fascination of Factory Tours
Know Your Customers