Whether you're a seasoned traveler or a first-time flyer, here are 11 travel gadgets you need before your next adventure.
External Battery Charger
While traveling, it's hard to estimate when you'll be able to charge your electronics, so an external battery charger is crucial to keep your gadgets juiced up. A power station like the Mophie charges up to four electronics in lightening speed, which is great for when you're on the go.
Camera
Find a camera that fits your needs as a traveler. Sony has everything from point-and-shoots to DSLRs for professional photographers. If your trip includes any sort of extreme sport, consider a GoPro or other action camera to capture those epic moments. If you would rather use your cellphone camera, there are lens attachments that enhance your photos without having to lug around heavy equipment.
E-Reader
If you don't own an e-reader because you love reading old-fashioned books, try lugging physical books around on your next trip. An e-reader, like the Amazon Kindle or iPad Mini, gives you access to more than a thousand books right under your finger tips while still fitting nicely into your carry-on luggage.
Portable Bluetooth Speakers
Music is essential for a great trip. With portable Bluetooth speakers, like the Divoom Airbeat 10, your travels won't keep you away from your jams.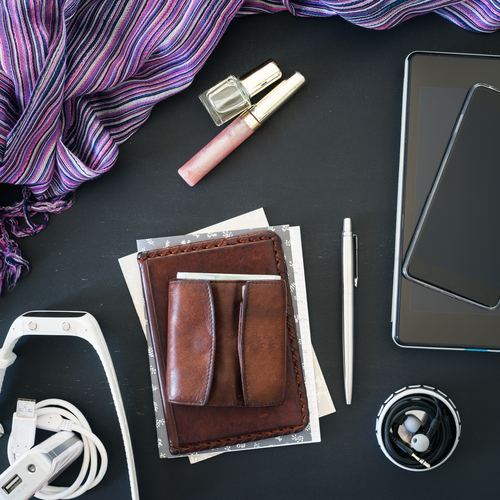 Smartwatch
A smartwatch, like the Apple Watch or Samsung Gear S2, is the perfect gadget if you want to stay connected without constantly being on your cellphone. With a smartwatch, you get notifications for email, texts and apps, so if your flight changes last minute, you'll be the first person to know.
Waterproof Cases
With all the technology you'll be rocking, be sure to find appropriate waterproof cases to keep your belongings safe. Consider waterproof protection for your smartphone, camera and e-reader. For technology that doesn't have customized waterproof protection, like headphones or external batteries, place them into a dry bag for extra care.
Headphones
A great pair of headphones gives you access to endless types of entertainment on planes, whether you're watching a movie or listening to music. They also block out noise from the crying baby on the bus and your snoring roommate in the hostel. Bluetooth wireless headphones are discrete and keep cords out of the way if you're doing a lot of walking.
Fitness Watch
Your health and fitness are usually placed on the back burner when you travel, but it doesn't have to be that way thanks to fitness watches. Monitor and track your heart rate, steps, calories burned, sleep and the food you eat by syncing your watch to your smartphone.
Water Filter
If you're traveling off the beaten path, LifeStraw is a personal water filter that makes contaminated water safe for you to drink.
Smart Luggage
If you travel with a suitcase, Bluesmart's smart suitcase has location tracking, a digital lock, distance alerts, USB battery chargers and a built-in scale. It's every travel techie's dream suitcase.
Wearable Translator
Sometimes the hardest part about traveling to a new country is dealing with the language barrier. With the Logbar ili, a wearable translator, you can communicate with ease and comfort while in a foreign country.