Wild, Wonderful West Virginia
With more than 30 state parks, six national parks, state forests, national scenic trails, rivers and heritage areas, there's no limit to West Virginia's outdoor experiences. But that's just the beginning of your vacation memories.
Located in the north-central section of the state, Canaan Valley Resort is the perfect spot to enjoy the outdoors and make a hub & spoke tour of the surrounding area. The full-service, 160-room resort is about three hours from Pittsburgh, a bit less from Washington, D.C. Twenty-three cabins and cottages are great for reunions of all types and outdoor special interest groups. The four-season mountain resort has excellent group menus and spectacular views from the Hickory Dining Room.
Outdoor Pleasures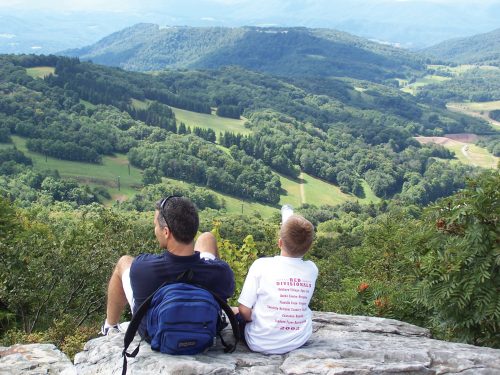 Forty-seven slopes and trails at the Canaan Valley Ski Resort ensure skiers and snow-boarders of all levels have a snow option just right for them. Snow tubers and ice skaters also will find plenty to do. From spring through fall there are biking and hiking trails to expore.
For groups that just want to enjoy the scenery, a ride on the ski lifts (open year-round_ could be your ticket. Those with a birding interest might consider a four-day weekend in early June for the annual Canaan Valley Birding Festival. If you've never shot sporting clays, attempted street bowling, gone geocaching, done a turtle slide tube ride or explored a mild survivalist activity, just ask the Canaan Valley Resort group sales team to make it happen.
At the West Virginia State Wildlife Center in French Creek, many of the native animals on display have been rescued from the wild. It's an easy one-mile walk on wide paved paths (perfect for showing off those new Reeboks) with each animal's expansive enclosure high-lighted by interpretative signs. Schedule a personal, informative and often humorous tour from one of the center's rangers.
More West Virginia Memories
Nighttime is the right time in the Gandy Dancer Dinner Theatre in Elkins. First, what's with the name, Gandy Dancer? The term has an origin that's difficult to trace. Two things are certain. The term was tied to Northern railway workers. Secondly, rhythm is involved whether it came from the dance-like movements that developed from carrying the "lining bar," or African-American workers with their tradition of trying tasks to music. Either way, Elkins and the theater are tied to the railroad history and culture of the area.
Before the curtain rises, you're in for a treat and it's more than the homemade sticky rolls in the lobby. Chicken cordon bleu and pork loin are the main entrees. Musicians and vocalists lead the audience through a variety of genres. Blend in some comedy and you have the perfect recipe for West Virginia's only dinner theater.
From Durbin, Cass or Elkins, rail excursions transport riders through the magnificent West Virginia countryside. Durbin & Greenbrier Valley RR offers a variety of remarkable options for groups, A two-hour excursion to Bald Knob on the Cass Scenic Railroad departs from Cass. The Durbin Rocket is a rare steam locomotive pulling open-air cars on a riverside rail. If one train isn't enough, the popular "Wild Heart of West Virginia Adventure Package" combines two train rides with one ticket and overnight options in Elkins or Cass. Step back to the 1920s for a wilderness excursion on the climate-controlled New Tygart Flyer. The mountain Explorer Dinner Train combines memorable views and a fine meal.
On the campus of Davis & Elkins College is the one of the most interesting museums you'll ever visit, The Stirrup Gallery. You may never experience as much history in such a limited space. From a collection of beautiful Amazon butterflies and projectile point of the Native American Iroquois Nation to one of the top powder horn collections in the United States and an extensive collection of firearms, the gallery brings history up close.
Both school and adult groups receive personalized visits from period-costumed Mark Lanham, coordinator of special collections, or his intern.
One of the more intriguing tours you can take is in Weston at the Trans-Allegheny Lunatic Asylum. Constructed of hand-cut stone, it's believed to be the second largest masonry building of its type, trailing only the Kremlin. Serving as a sanctuary for West Virginia's mentally ill, it was designed to house 250, but topped 2,400 in the 1950s. You'll learn abut these pioneers of humane treatment, go where the criminally insane went and discover the place the Civil War held in the building's history. Fir the courageous, ghost tours are available.
Summary
Article Name
Wild, Wonderful West Virginia
Description
With more than 30 state parks, six national parks, state forests, national scenic trails, rivers and heritage areas, there's no limit to West Virginia's outdoor experiences. But that's just the beginning of your vacation memories.
Author
Leisure Group Travel Magazine