Virginia Itinerary: Destination: 18th Century
The Itinerary at a Glance
Time travelers are welcome in Colonial Williamsburg. Imagine jumping into a living, breathing 18th century city complete with historic reenactors and nearly 100 reconstructed buildings. Come and share thoughts with our tradespeople, business owners and Nation Builders. Meet their animals, enter their homes (there is even a royal palace!) and immerse yourself in the culture of the dawn of America.
3 Unique Experiences on This Trip
Colonial Williamsburg is the world's largest living history museum.
Discover two world-class art museums that showcase folk art, fashion, clothing textiles, antiques and many more.
Over 30 historic trades using the tools and techniques of the 18th century.
Duration: 2 Days
Available: Year-round
This Itinerary is Ideal For: All
Itinerary Details
---
Day 1
A day in Colonial Williamsburg begins with a visit to the Capitol, a recreation of the building that served as the home for the House of Burgesses—colonial Virginia's representative government. Here, visitors can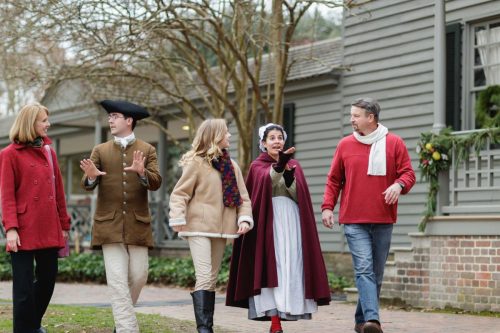 witness laws being passed and debates over American independence. Continue down Gloucester Street by foot or buggy to Raleigh Tavern, where you can debate American sovereignty with local patriots or learn about 18th century brewmaster techniques. At the Apothecary, you'll learn about how much medicine has changed since the days of George Washington, while the Foundry demonstrates how buckles, knobs and utensils were created using metal castings. If your group has spare time in the afternoon, visit the many craftspeople who create objects using accurate period technology. Weavers, wigmakers and wheelwrights are all willing to share their knowledge and discuss their art.
After a long day of walking, relax with hot beverage at R. Carlton's Coffeehouse and a performance on the adjoining Carlton Stage, which welcomes guests such as Martha Washington and Sam Adams. As the sun sets, an uneasy air descends upon Williamsburg as groups prepare for the Ghost Walk. For an engaging hour, listen to tales of the restless souls who still wander the town and explore the buildings they are reported to haunt.
Day 2
Your second day begins with a journey through the Governor's Palace, which evokes the grandeur of Virginia's early state government before the capitol was relocated to Richmond in 1780. Famous
occupants included Thomas Jefferson and Patrick Henry, and your group can pass through the elegant dining room and reception areas. Down the road lies the Colonial Garden, which grows herbs and vegetables using accurate 18th century methods. Further down the Palace Green, your group will find the George Wythe House, home to the prominent attorney who was a signer of the Declaration of Independence.  On the corner lies the Bruton Parish Church, a three-centuries-old Episcopal worship center where several Founding Fathers worshiped. Be sure to observe a trial at the Courthouse, one of Williamsburg's signature attractions. Groups can witness court sessions, prosecutions and justice meted out at the pillory and stocks outside.
Few visitors realize that half of Williamsburg's 18th century population was black, and groups can learn about the stark contrast of freedom and slavery in the African-American Experience areas throughout the town. Notable stops include the African-American Religion building, the slave quarters at the Peyton Randolph House and "Century of African American Quilts" exhibit at the Abby Aldrich Rockefeller Folk Art Museum. For more art, visit the Dewitt Wallace Decorative Arts Museum.  The building houses the world's largest collection of southern furniture and one of the largest collections of British ceramics outside England. Relax in the Portrait Gallery, attend a lecture or musical event in the Hennage Auditorium or take part in a hands-on activity in the Education Studio. Conclude your day with a hearty colonial-inspired meal at Chowning's Tavern. Illuminated by candlelight, this restaurant serves old favorites such as Brunswick stew and Welsh rarebit, as well as shepherd's pie and bangers & mash.