From the Cold War to Star Wars, this Southern California attraction chronicles the life and times of Ronald Reagan.
As the 40th president of the United States, Ronald Reagan lived through some momentous times—the Communist hunts of the 1950s, the Cold War, the fall of the Berlin Wall, the collapse of the former Soviet Union. Fittingly, then, the Ronald Reagan Presidential Library and Museum is an excellent place to go for fans of 20th century American history.
And while you'll learn plenty about President Reagan's time in office and the events that went on during his long life, that's not all you'll find out. Part archive, part museum and part community showcase, this Southern California complex is all about learning. You'll learn about the American heroes that Reagan always mentioned in his State of the Union addresses; their stories are showcased in a special gallery filled with artifacts. Included are a piece of a steel girder from the World Trade Center and an actual Medal of Honor.
You'll also get a chronological overview of the American presidency. Presidential Drive—where the library is located–is a mile-long cruise up a hill. On the way, you'll pass a banner for every American president from George Washington on. These banners feature presidential portraits and the dates the men held office.
What Will We Learn About Events During the Reagan Presidency?
Naturally, a visit to the Reagan Library will focus on the eight years of his presidency. And while the Reagan Library and Museum is the largest Presidential library – containing millions of documents and photos, thousands of audio and video tapes, tens of thousands of artifacts, and hundreds of thousands of feet of motion picture film in its 153,000 square feet – it's not all simply look-but-don't touch exhibits. Among the interactive features:
A movie that visitors can "act" in along with the president (before he became president, that is)
The Boeing 707 airplane that served as Reagan's Air Force One
A full-size replica of the Oval Office
A working pub (now a snack bar) that President and Mrs. Reagan visited during a diplomatic trip to Ireland
Some of the other exhibits, while not interactive, still generate a lot of interest. The Air Force One Pavilion, which houses the aforementioned Boeing aircraft, also houses a marine helicopter used by President Johnson as well as presidential limos and Secret Service SUVs.
Another important feature is a section of the Berlin Wall that was delivered to the Foundation in 1990. While the Berlin Wall came down in 1989, after Reagan had left office, the wall was a strategic backdrop for one of his famous speeches.
The Reagan Library is also host to community events, such as book signings, lectures and concerts. Its Center for Public Affairs was the scene for a presidential candidate debate in 2008, among many other things.
Currently, a traveling exhibit called Vatican Splendors: A Journey Through Faith and Art is in residence through late August, 2016. This collection of religious and secular objects features many priceless items, including ancient coins, relics and works of art by masters like Bernini, Guercino, and Michelangelo. Some of the items are presented in recreated environments that evoke their religious, ceremonial and historical significance.
What Will We Learn About Ronald Reagan?
As you move through the museum's many galleries, you'll learn about Reagan's Midwestern roots — he was born in Illinois — his personal convictions and his varied careers. By the 1960s, he was active in politics and was elected to the governorship of California in 1966 and again in 1970. By 1980, he became the oldest person to be elected as president of the United States.
Here are some fun facts that visitors to the Reagan Library will find out:
President Reagan was the only American president who had also been a union president. (He served as president of the Screen Actors Guild Union.)
He also worked as a radio announcer and actor, and served as a captain in the Army Reserves.
Ronald Reagan loved jelly beans. He began eating them as a way to give up smoking, but the habit stuck. If you like blueberry Jelly Belly jelly beans, thank Reagan; Jelly Belly created the flavor so the White House could have red, white and blue jelly beans for his inauguration.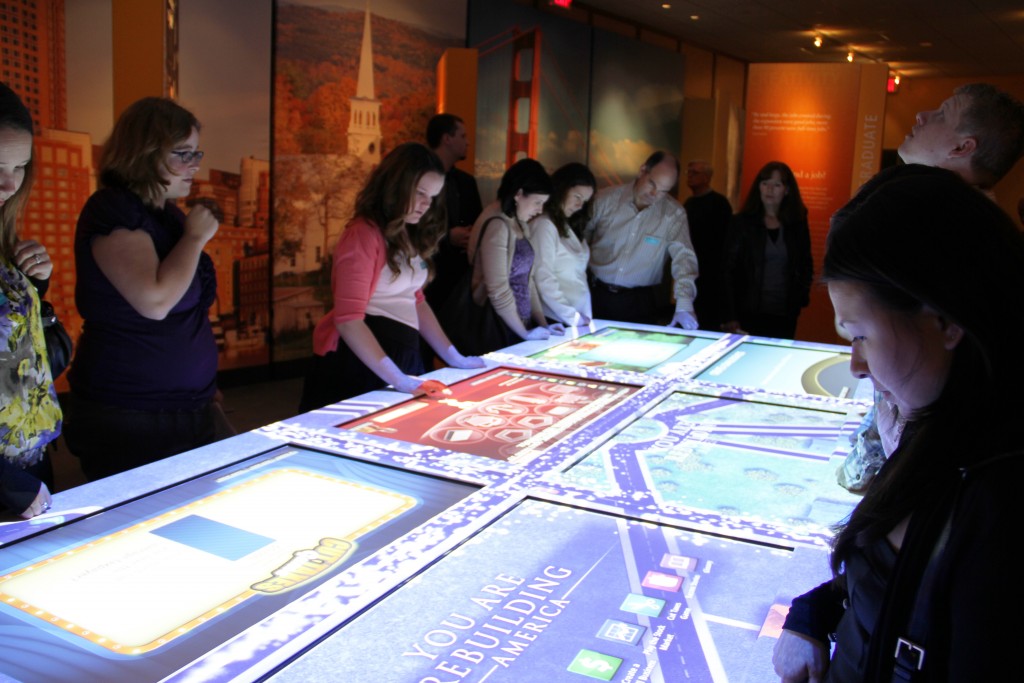 How to Get to the Reagan Presidential Library
The Reagan Presidential Library is located in Simi Valley, California. That's about an hour north of Los Angeles if you're coming by car, although you may want to allow some extra time for traffic during peak hours. The library complex is just under five miles away from Exit 23A on Interstate 101, so it's easy to find.
If you've ever wondered what it's like to read an inaugural address off a teleprompter, see the inside of the Oval Office or check out the interior of Air Force One, you'll get a chance to do all of those things at the Ronald Reagan Presidential Library and Museum.