Groups visiting Switzerland anticipate seeing towering mountain peaks, flowering green meadows, crystal-clear lakes and friendly locals. The premium panoramic trains of the Swiss Travel System deliver the expected and so much more.
Gotthard Panorama Express
From the Mediterranean-influenced south of Switzerland starting at Lugano or Bellinzona, the 5- to 51⁄2-hour trip on the Gotthard Panorama Express takes groups through the heart of Switzerland. On the way north, rural Switzerland and the Alps are on display as are numerous tributes to Swiss engineering, including the Gotthard Tunnel (built in 1882) and many other loop tunnels.
While enjoying the photogenic sights along the route, passengers hear stories about history, myths and legends. Arriving in Fluelen, groups seamlessly transfer to a steamboat for a ride across Lake Lucerne. En route to Lucerne, the final destination, there's a wealth of history to be discovered on the lake. Rutli Meadow, where the foundations of the Swiss nation were laid; the Schillerstein ("Stone of the Myths"); and William Tell Chapel, all have a story to share. The journey can be taken southbound, from Lucerne to Bellinzona or Lugano.
On the train, snacks and beverages are available for purchase, and seat service is offered. The steamboat offers meals, snacks and beverages.
---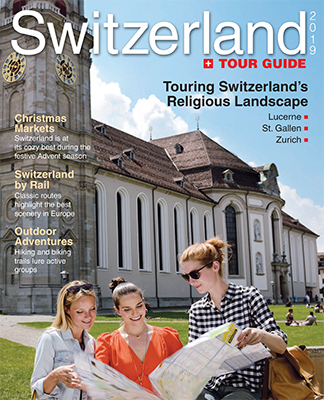 ---
GoldenPass Line
In the 1920s the railways of Central Switzerland and the Lake Geneva region merged to service visitors exploring the bright autumn colors. From there the name GoldenPass Line emerged. In 1976 the first panorama railcars arrived. Today, two premium panoramic trains service the five-hour route.
The Lucerne-Interlaken Express links two world-class destinations and travels past scenic, turquoise Lake Sarnen and Lake Lungern, across the Brunig Pass and by Brunig Safari, where passengers will see wild animals (both living and wooden) before arriving at Interlaken. Interlaken literally is the land "between lakes" and the point of transfer to continue the journey. Continuing on the BLS RegioExpress, the trip parallels the shoreline of Lake Thun from Interlaken to Spiez. In the Simme Valley, magnificent timber farmhouses display the creativity of the area's carpenters.
In Zweisimmen, a point of departure for adventuresome high-altitude hikers, the remaining passengers change to the gold-colored panorama trains or the classic, retro-style Belle Epoque train of the Montreux- Bernese Oberland (MOB) Railway.
A highlight of the GoldenPass Line's final leg is the resort town of Gstaad, home to numerous festivals and a stop on the FIVB Beach Volleyball World Tour. Saanen is well known for its rural handicrafts (as exhibited in the local museum) and finely sliced Alpine cheese.
The first French-speaking stop is Chateau-d'Oex, world famous for hot air ballooning and for more than 40 years host to a balloon festival. On the east side in the direction of Montreux sits the "Grand Chapel." Once Switzerland's largest timber building, it was the site where Victor Hugo wrote part of Les Miserables. The charming village of Montbovon is a popular link to Gruyeres, famous for its fine cheese. White daffodils carpet the meadows surrounding the Vaud district. From the Jaman Tunnel to Les Avants the steep descent past woodlands and vineyards to lakeside Montreux begins.
A dining car is available on the Lucerneto-Interlaken portion of the GoldenPass Line. From Zweisimmen to Montreux a minibar can be found on the panorama railcar trains. A dining car is on the MOB Belle Epoque line.
Glacier Express
Labeled as the world's slowest express train, the Glacier Express takes groups on an incredible eight-hour journey from Zermatt to St. Moritz. Through its panoramic windows guests experience 91 tunnels, 291 bridges and exceptional landscapes from the Engadine Valley to the Matterhorn. The highlights of the trip are numerous.
The Matter Valley features splendors from meadows and vineyards to eternal ice, rugged rock faces and the Bies Glacier. The only glacier visible from the train, the ice stream flows downhill to the valley at a 60-percent grade. Through the wild Kipfen Gorge the train closely parallels the River Vispa. The many bridges of Stalden, dating from different eras, helped the village develop as a major transportation hub. The picturesque Kin Bridge dates to the 16th century and is a protected monument. The village of Andermatt, located at the foot of Oberalp Pass, has developed into a year-round vacation destination.
Oberalp Pass is the highest point on the Glacier Express. Watch for Switzerland's oldest Benedictine monastery, Disentis Monastery, built in the late 17th century, destroyed by Napoleon's army in 1799 and restored in the 19th century. Passengers also eagerly await the Rhine Gorge, or Swiss Grand Canyon, which began its formation more than 10,000 years ago following the Flims landslide. The Domleschg Region features an abundance of castles (the largest being Schloss Ortenstein) built to protect the three main Alpine passes.
Solis Viaduct, built in 1902, is 292 feet high and spans 269 feet, making it the highest along the Abula line. Near the village of Filisur, spectacular Landwasser Viaduct, at 466 feet long and 213 feet high, is the most photographed feature of the Rhaetian Railway.
Bergun and Preda are less than four miles apart, but the train must travel more than twice that distance through five loop tunnels, crossing four valleys and viaducts in traversing the 2.5-mile grade. Between Bever and Celerina the architecturally distinctive houses of the Engadine Valley fascinate travelers with their funnel-shaped windows, facade decorations and three story stone construction.
Meals prepared onboard are served at the guest's seat. Handicap-accessible toilets and wheelchair seating are available. Earphones provide historical information and legends, along with need-to-know facts, in six languages.
Bernina Express
Groups on the Bernina Express travel from snow-capped Alpine peaks to lakes lined with palm trees. The unforgettable trip to Tirano, Italy and on to Lugano, Switzerland begins in either Chur or Davos. Departing Chur, Switzerland's oldest town, the train passes through Schin Canyon and over Solis and Landwasser viaducts. From Davos passengers travel through the high valley of Landwasser's 14 tunnels and 30 bridges, including the Wiesner Viaduct.
Along with the engineering wonders of the Solis, Landwasser and Wiesner viaducts and the Domleschg region's castles, the route takes groups to Bergun and Preda and the Engadine houses, and that's just the beginning of the line. Between the Engadine Valley and Ozpizio Bernina station, glaciers sparkle through the panoramic windows.
From Ozpizio Bernina at 7,392 feet, the highest station on the Rhaetian Railway network, the train passes three small lakes situated as the watershed between the Black and Adriatic seas. Alp Grum is the only restaurant accessible only by train and presents wonderful views of the Palu Glacier.
The train runs close to Lake Poschiavo, a popular fishing destination, and the lakeside vacation spots of Le Prese and Miralago. The Brusio Circular Viaduct requires two loops, each 325 feet in diameter, to overcome a full altitude level on its way to the Italian city of Tirano.
In the summer months groups can take the Bernina Express Bus from Tirano through the vineyards of Valtellina to palm-lined Lake Como to lovely Lugano and picturesque Lake Lugano.
Handicap-accessible toilets and wheelchair seating on the Bernina Express and Bus are available. Information in multiple languages is provided on the history and culture along the route.
Alpine scenery captivates passengers on the Glacier Express route between Zermatt and St. Moritz. Rhaetische Bahn The routes that comprise the premium panoramic trains are just the beginning of discovering the incredible Swiss landscapes. Groups will find the Grand Train Tour of Switzerland, totaling 796 miles, a memorable experience. Choose from any or all of the premium panoramic trains and the following routes. There's no defined travel direction, and groups can begin from any point. The four- or eight-day tour of the eight most beautiful Switzerland routes is all accomplished with one ticket, the Swiss Travel Pass.
Zurich-Schaffhausen-St. Gallen
It's on this 21⁄2-hour route that passengers learn that although landlocked, Switzerland has navigable access to the world's oceans via the Rhine River. The remarkable railway bridge over the Rhine at Eglisau is crossed before passing briefly into Germany. The route continues past Schaffhausen and its Munot fortifications and parallels Lake Constance, a major trade route between Germany and Switzerland in the 19th century. The spectacular Rhine Falls between Neuhausen and Laufen is the largest in Europe. Departing the train, groups can experience this natural wonder by boat or from a platform.
St. Gallen-Lucerne
This 21⁄4-hour trip on the Voralpen-Express showcases some of Switzerland's most dramatic Alpine peaks and green hills of the pre-Alpine landscape. The train crosses the Sitter Viaduct, Switzerland's tallest railway bridge at almost 1,200 feet long and 325 feet high. It then crosses a dam on Lake Zurich and travels through the Rothenthurm upland moor. Lucerne's Glacier Garden includes displays dating back to the Ice Age and before when Lucerne was a subtropical beach.
Montreux-Visp-Zermatt
Before departing Montreux for the 21⁄2 -hour trip to Zermatt groups should visit historic Chateau de Chillon, the summer residence of the counts of Savoy for 400 years. From Martigny, founded almost 2,000 years ago, the journey continues through the lush Rhone Valley. Between Sion and Sierre is Lake of St. Leonard, the largest navigable underground lake in Europe and accessible by guided tour. Arriving in Visp, groups have the option of taking a side trip to Brig, International Alpine Town of the Year in 2008, and 17th-century Stockalper Palace. The trip continues from Brig on the Matterhorn Gotthard Bahn through the deepest valley in the Alps, Nikolai Valley. The distance between the Nikolai Valley and the Matterhorn summit is almost 21⁄2 miles. Here you'll find the highest density of mountains over 13,000 feet.
To begin planning your group's Switzerland railway experience, visit online at mystsnet.com for information on ticketing groups of 10 or more and the Swiss Travel Pass. For bookings and group reservations for trains subject to surcharge such as Glacier Express, Bernina Express and Gotthard Panorama Express, go to agent.raileurope.com. For route suggestions, please visit myswitzerland.com/en-us/route-suggestions.html.
By Dave Bodle