Outstanding Aquariums in the West
If you're fascinated by the ocean, or you just like sea creatures, visit some of the top aquariums in the western U.S. and learn more than you ever thought possible about life under the water's surface
Growing up in a landlocked state with few large bodies of water, my exposure to the ocean was limited. The Little Mermaid was one of my first encounters with ocean life, granted it was a cartoon and completely fictional, which I discovered soon enough. A much better representation—and probably what sparked my curiosity more—was a visit to Australia's Great Barrier Reef, where the world beneath the waves came alive in a whole new way.
The ocean is an environment unlike anything we experience on land, home to some creatures that seem as if they could come from another planet. Since most humans lack the capacity—or the equipment—to breathe underwater, the sea remains somewhat of a mystery, a vast expanse so large it's hard to comprehend. If you're like me and haven't had many opportunities to explore the watery depths, there are other options. Many aquatic attractions exist to bring the ocean to us, allowing us to experience a different realm and get up close and personal with some of its famed occupants.
The western United States has a number of aquariums where groups can explore the wonders of the ocean. Aquariums offer educational tours and classes, plus entertaining shows and performances—all designed to help visitors discover ocean ecosystems.
Fishy Fun in California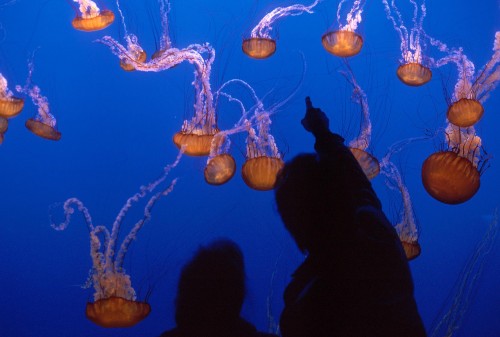 If you're visiting Northern California, a must-see is Monterey Bay Aquarium. Thirty-four galleries contain some 35,000 creatures representing 550 species, and with nearly 200 exhibits, groups can get an extensive look at underwater life.
Groups can explore the aquarium on their own, visiting popular exhibits such as the Kelp Forest, one of the tallest aquarium exhibits in the world at 28 feet; or Open Sea, where they can see schools of sardines swim amongst tuna, sharks and sea turtles; or Tentacles, a special exhibition designed to showcase the lives of octopuses, squid and cuttlefishes.
For a more in-depth look at Monterey Bay Aquarium and the research it has been doing over the last 30 years, your group can take a special tour. If you have a crew of sea otter lovers, then check out the daily "Sea Otter Conservation Tour," which offers a close-up look at the program that has been studying and working to save these creatures for years. "Feeding Frenzy" is a popular tour that lets you explore the aquarium before the doors open to the public. Your group can watch animals being fed and learn about what it takes to run an aquarium.
Filled with more than 11,000 marine creatures, Aquarium of the Pacific in Long Beach, California, is one of the most visited aquariums in the country. It features threatened animals such as the sand tiger shark, giant sea bass and olive ridley sea turtle, among others. If you're planning a visit, be sure to check out Shark Lagoon, which features more than 150 sharks in an expansive outdoor venue; and June Keyes Penguin Habitat, where you can get close to more than a dozen Magellanic penguins. Learn about local watersheds and efforts to protect them at Our Watersheds: Pathway to the Pacific; or discover veterinary medicine in action at the Molina Animal Care Center, which provides healthcare to the animals.
Groups can take a behind-the-scenes tour where they can see what it takes to maintain a world-class aquarium, learn interesting facts about the animals housed there, and go above the largest exhibit, Tropical Reef, and feed the fish.
More than just an aquarium, Ocean World in Crescent City, California is located on the coast, about 20 miles from the border of Oregon. Ocean World takes you on a guided tour with a much more intimate approach to interacting with sea animals. It starts with the Touch and Feel Tide Pool, where tour members have the opportunity to touch many of the strange and intriguing creatures of the Pacific Coast. The tour moves to the aquarium, where you will find sharks, seals and sea lions amongst many other animals. Then, you will be given the opportunity to pet a real shark, one of Ocean World's main attractions. Finally, wrap up the tour with a seal and sea lion performance.
Marine Adventures in Oregon and Washington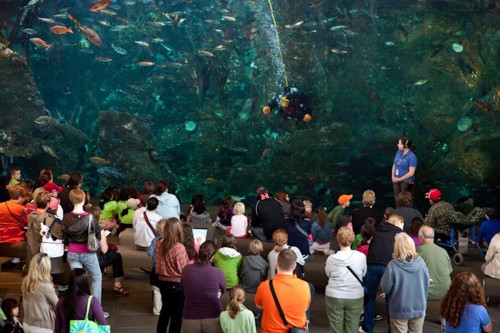 Continuing up the Pacific Coast, you will find some top attractions in Oregon and Washington. Located in Newport in beautiful Yaquina Bay, the Oregon Coast Aquarium has a goal to help the public understand, cherish and conserve marine and coastal ecosystems.
This aquarium allows you to not only view a variety of sea creatures, but also lets you completely immerse yourself in the ocean realm. Passages of the Deep is a series of underwater walkways
that lead visitors from the quiet canyons and kelp forest of the Orford Reef, through the crowded waters of the Halibut Flats, out to the wide expanse of the Open Sea.
If you're anything like Ariel—yes the mermaid—you'll want to check out one of the latest exhibits, Secrets of Ship-wrecks. This showcases the explorers who risked their lives to visit these submerged research sites and excavate the ruins of old ships to learn about the past.
A few hours north is the Seattle Aquarium, the ninth largest aquarium in the U.S. by attendance. Opened in 1977, the aquarium has welcomed over 22 million aquatic enthusiasts, and now it's your turn. Visitors can explore one or all of the aquarium's six major exhibits. A 120,000-gallon exhibit, Window on Washington Waters, features more than 800 fish and invertebrates indigenous to the Pacific Northwest, including salmon, rockfish and wolf eels. Want to touch the prickly spines of a sea urchin or chase a scuttling hermit crab? Head to Life on the Edge, where you can have a close encounter with these various creatures. If you're a fan of coral reefs, check out Pacific Coral Reef, which demonstrates the structure of the reef community. Birds and Shores is an open-air exhibit that highlights the shorelines of the Puget Sound, while Underwater Dome takes you underneath the ocean surface where sturgeons swim over your head and you can look straight into the eye of a shark. Sea otters, harbor seals and river otters entertain the masses at the Marine Mammals exhibit.
Aquatic Oasis Amid the Peaks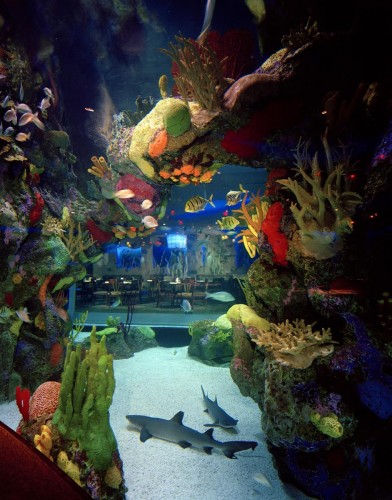 Despite being nowhere close to an ocean or any large body of water, Colorado is home to one of the West's top marine attractions, the Denver Downtown Aquarium. Opened in 2005 by Landry's Restaurants Group, the aquarium has become a refuge for marine animals in the Mile High City. It houses over 500 species and features an interactive Stingray Reef touch tank among its wide variety of exhibits.
On top of that, you can enjoy a quality meal at Dive Lounge, an upscale restaurant; take a ride on the Aquatic Carousel; and watch a film at the 4-D theater. If you're lucky, you can even catch a glimpse of a mermaid. Once the subject of legend—and this writer's cherished animated film—mermaids have found a home at the Denver Downtown Aquarium, swimming amongst the sea life and teaching visitors the importance of taking care of the underwater environment.
The ocean may not be close to me, but it still captivates and inspires. For noncoastal ocean lovers like me—or anyone who has a curiosity about the underwater world—colossal fish tanks and massive aquatic exhibits are the best place to experience life under the sea.