Las Vegas' Emerging Activity Scene
Las Vegas-bound groups are venturing outside the casinos and finding plenty of immersive activities to their liking
141 miles per hour. Hit this speed on the interstate and it's a felony ticket. Do it at Speed Vegas, one of the many new group-oriented activities in Las Vegas, and it wins you bragging rights with your buddies.
On a recent trip to Sin City with a small group of friends, I zipped around a closed racetrack behind the wheel of two dream cars, a Porsche 911 and Lamborghini Huracan. Thanks to a professional driver/coach as my passenger, I navigated the tactical course at heart-pounding speeds. It's just one element of an ever-growing series of YOLO (you only live once) experiences offered in Las Vegas.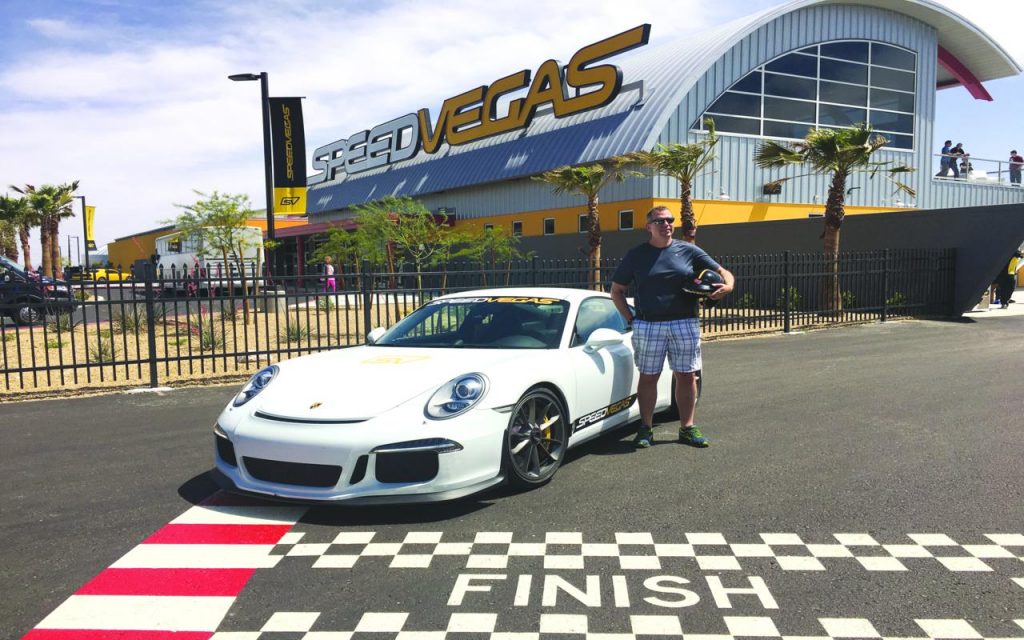 In fact, the entire tourism scene in Las Vegas has been revitalized. While a record 42.9 million tourists visited in 2016, what they are doing once they get there is changing.
While a generation ago 70 percent of monies spent in Vegas were at the casino, today that figure is closer to 30 percent. Groups are more apt to spend two hours watching Britney Spears at Planet Hollywood or Celine Dion at Caesars Palace than in front of a slot machine.
"It is all about the experiences in the destination, and the more authentic those experiences are, the more photogenic and the more "story-worthy" the better. Coming back from a trip and being able to share a compelling story with
friends and co-workers is what everyone wants from their vacation," commented Mike Schields, CEO of Destination America, the company that builds and operates programs for top guided-vacation brands such as Trafalgar and Insight Vacations.
"As an operator, our goal is to make our programs as interesting and compelling as possible so as to give our guests experiences that they might have not necessarily found on their own, or did not think or know about," Schields added.
Increasingly, tour operators are skipping the four-hour city tour and providing options where guests can enjoy activities that appeal specifically to them.
"Attractions like Speed Vegas fit in well with Las Vegas' fast-paced and high-roller image. A Ferrari or Lamborghini is well outside the reach of most of us in our lifetimes, but getting an opportunity to take one of these amazing machines on a real racetrack, under the supervision of a skilled driver instructor, is very hard to resist," Schields said.
Frank Corto, president of SinCity VIP, a local tour and event company, said that while nightlife, dining and shows are still very popular, they've seen a shift towards adventure activities such as desert dune buggy tours, exotic race cars, modern gun ranges and skydiving.
"We offer customized vacation packages for small groups, and our most popular type of group is still the pre-wedding celebration tradition of the bachelor and bachelorette party. Las Vegas will always be a favorite destination for this type of event and for good reason."
Group Dine-Arounds
The restaurant scene is booming in Las Vegas, with nearly 2,000 eateries in and around the city. Even popular resort properties like MGM Resorts brands are heavily invested in dining, operating 130+ restaurants in addition to their 50,000 hotel rooms on the Strip. Whether on the Strip or downtown, there's constant shuffle in new trendy dining establishments.
So many choices can present itinerary-planning challenges. Enter the dine-around tour. "Groups love our tour because it's more memorable than just dining at one restaurant.
It gives everyone a chance to sit next to someone different at each restaurant, which is perfect for networking," said Donald Contursi of Lip Smacking Foodie Tours. Most people have never experienced five award-winning restaurants in one night. With our tours they can." Lip Smacking Foodie Tours has a variety of packages on the Strip, downtown and one that includes a helicopter tour.
And, of course, you have to capture all those memories. Instead of blurry thumb selfies, Photo Tours Vegas has created its own unique spin on photo tours. The operator will pick up your group from their hotel and take them on a one-hour trip by limousine, Hummer, party bus or disco bus, accompanied by a driver and professional photographer. Your group stops at iconic locations to capture photos, and no one has to worry about using their cell phones or who's left out of the photo.
---
---
The company has partnerships in place with many restaurants, shows and attractions, making the tour a component in an entire experience. Another product, "Simple Arrival," welcomes your group as soon as they arrive at the airport. As they hop into a bus, they are served Champagne, then stop at the Vegas sign where a professional photographer captures the moment before they check into their hotel.
Even if your group isn't into jumping out of airplanes or racecars, there are plenty of immersive tours and activities that you can take in at a slower pace. Popular group attractions like the Mob Museum, Neon Museum and Wayne Newton's Shenandoah.
"Groups love Wayne Newton's Casa de Shenandoah," said John Meyer, sales executive for the Las Vegas Convention & Visitors Authority. "The great thing is that they've built this brand new visitor's center right across the street from his property, so you'll come into the visitor's center, they talk about Wayne Newton and then you get on the bus, go across the street and go experience his property. There is an Arabian horse ranch on property. If you're lucky, you can actually see Wayne Newton out there working with the horses."
Meyer continued, "The Mob Museum is another one that's been extremely popular because it's taking you back through parts of Las Vegas' history. The museum sits in the old post office and you can see where they held one of the famous Kefauver hearings and learn about organized crime."
"Also, a lot of tour groups are attracted to the Neon Museum tour in downtown Las Vegas," Meyer added. "It's an outdoor venue where you're taken on a tour of the old neon Las Vegas signs. They have a huge collection where they go through the history of the signs and history of the properties where the signs sat. The museum offers both daytime and nighttime tours, so there are two different experiences since a number of the signs have been restored and can be turned on."
Whether on a racetrack, in a five-star restaurant or inside Wayne Newton's house, Vegas continues to build on the foundation that makes it America's #1 entertainment destination.
Summary
Article Name
Las Vegas' Emerging Activity Scene
Description
Las Vegas-bound groups are venturing outside the casinos and finding plenty of immersive activities to their liking
Author