Go Ahead Offers New Tour to Offbeat Region of Italy
Go Ahead Tours, of Cambridge, Mass., offers a new 12-day tour of Puglia and Southern Italy. Set to begin in March 2012, the tour to this less-traveled Adriatic region on the heel of Italy's boot also visits Naples and Sorrento and allows for an added two-night stay in Rome. Puglia, popular with Europeans, is visited by few Americans.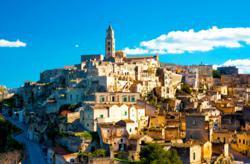 Trip highlights include the UNESCO World Heritage sites of Castel del Monte and the Basilica of St. Nicholas in Bari.
For those who travel to Italy in search of fine food and wine, Puglia's coastline offers a wide variety of fresh seafood including oysters and mussels, and the region has historically served as Italy's breadbasket. More olive oil is produced here than anywhere else in Italy, most restaurants offer their own time-honored take on orecchiete con le cime di rapa, (orecchiete with broccoli rabe, Puglia's favorite pasta) and deep-fried, custard-filled zeppole serve as the region's signature dessert. Travelers on this tour will enjoy five included traditional dinners featuring regional delicacies
"Puglia's beautiful coastline, historic towns and abundant, flavorful cuisine made it a great fit alongside our other tours of Italy," said Christy Waller, Go Ahead's vice president of marketing & analysis. "We're always on the lookout for secluded destinations, and we think our travelers will enjoy discovering a side of Italy they may not have experienced before."
The trip begins at $2,299, including airfare. (www.goaheadtours.com)