The Itinerary at a Glance
This much-celebrated destination has been enticing visitors for centuries with its sultry ambiance, striking beauty and Old World charm. Waiting to charm you with its tree-filled squares and perfectly preserved historic buildings, your visitors will delight in all this coastal jewel has to offer.
4 Unique Experience on This Trip
[list line="no" style="style1″]
Discover the Moon River District
Dig Wormsloe Plantation's History
Dance at the Davenport
Cruise on The Savannah Riverboat
[/list]
Duration: 3 Days
Available: Year-round
This Itinerary is Ideal For: All
Itinerary Details
---
Day 1
Take a Tour: Get to know Savannah by experiencing a city tour, either on open-air or with one of our highly trained step-on-guides. The tour lasts about two hours and will acquaint your group with our genteel Southern beauty. It will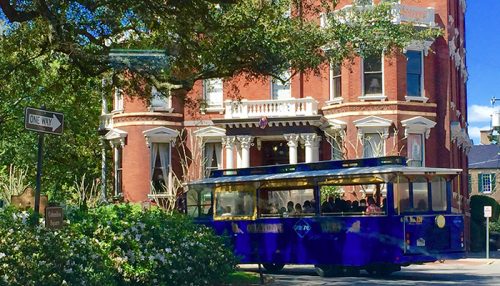 also give them a sample of the attractions they may want to explore later on their own. Be sure to stop at the awe-inspiring Cathedral of St. John the Baptist along the tour route. The Cathedral's interior boasts stunning murals, stained glass windows and an impressive altar. It's free and worth it.
Step Back in Time: Savannah's past is exhibited by the many house museums and cultural centers in the area. Visit the birthplace of Juliette Gordon Low, founder of the Girl Scouts, the 1818 Owens-Thomas House, generally considered to be one of America's finest examples of English Regency architecture and featuring one of the few intact slave quarters in America, or the circa 1820 Isaiah Davenport House, the first home preserved by the Historic Savannah Foundation and an exceptional example of Federal-style architecture. As an added activity, your group can be treated to an 18th century dance demonstration.
Eat, Drink, and Be Merry: Your group covered a lot of ground on their first day and they may want to have a casual bite to eat before retiring for the evening. Savannah's historic River Street has all types of casual and upscale dining options. Seafood, steaks and light fare can all be found in the restored cotton warehouses that are home to some of Savannah's favorite restaurants and pubs. We can help you determine which restaurants are particularly group-friendly.
Day 2
Tybee Time: Just 20 minutes from Savannah lies Tybee Island, "Savannah's beach," a uniquely charmed island offering a change of pace and taste. While there, take your group to the Tybee Light Station. Dating back to 1773,
the lighthouse is one of America's most complete historic light stations. After the lighthouse, take the group to the nearby Fort Pulaski National Monument. Built in 1829, the fort, which was at one time under the command of Robert E. Lee, surrendered after a 30-hour siege by Union forces. Today you can still see the holes from that long-ago bombardment. Your group can also take a dolphin tour, a walking eco-tour along the beach or view the historic Cockspur Island Lighthouse.
Make it And Take It: Your group can create their own Savannah mementos while learning about the city and its history. Make a Bird Girl figurine at the Telfair Museum, or maybe a wine holder at the Maven Makers woodworking workshop, where all wood is locally sourced. There are many ways to take a piece of Savannah home with you for an everlasting memory.
That evening, dine aboard the Georgia Queen, Savannah's Riverboat Cruises' spectacular new ship. With a seating capacity of over 1,000, it's the largest riverboat of its kind in the U.S. Enjoy traditional Southern cuisine as you take a leisurely trip along the Savannah River.
Day 3
Start the day exploring Wormsloe Plantation, one of six sites in the Moon River District. Here groups can learn about early colonial life while getting hands-on experience making cloth or corn husk dolls that they can take as
mementos, or even join an active archeological dig! Your visit to Wormsloe commences with the 1.3-mile drive down a live oak-canopied lane.
Military Might: Located only minutes from historic downtown Savannah, the National Museum of the Mighty Eighth Air Force marks the location where the Eighth Air Force was activated in 1942. The 90,000-square-foot museum is dedicated to preserving the history and stories of the mighty Eighth, the "greatest air armada of all time." Hear the unforgettable stories of bravery, experience a bomber mission and briefing, and see the recently restored World War II B-17 Flying Fortress. This is a treasure not to be missed while visiting the area.
It's Showtime! Your group's final night in Savannah is sure to be a memorable one as they experience one of the city's theater presentations. From spectacular live musicals at the Savannah Theatre to seasonal special performances, your group will be amazed by the abundance of talent in our small city.