The Itinerary at a Glance
Discover "The Real America" as you relive 200 years of history at the original gateway to the West. Retrace the footsteps of fearless Deputy U.S. marshals and the infamous outlaws they brought to justice in Indian Territory. Explore the majesty of the Ozarks by train. Visit the renowned Crystal Bridges Museum of American Art and uncover an international urban-contemporary street art scene. Experience the beauty of Arkansas Wine Country. Tour Fort Smith, Arkansas!
4 Unique Experience on This Trip
Fort Smith National Historic Site
Cherokee Heritage Center
Fort Smith Regional Art Museum
Arkansas River Valley Nature Center
Duration: 5 Days
Available: Year-round
This Itinerary is Ideal For: All ages
Itinerary Details
---
Day 1
Miss Laura's Visitors Center: Tour the first former bordello listed on the National Register of Historic Places. With arrangements, "Miss Laura" will greet your group and give a guided tour.
Fort Smith National Historic Site: Step back in time as you tour "hanging judge" Isaac C. Parker's courtroom and walk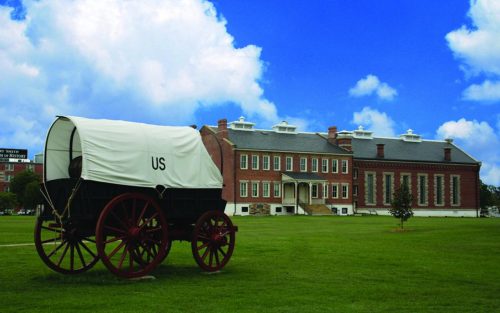 along a portion of the Trail of Tears.
BBQ Dinner with Miss Laura's Players: Make arrangements for a delicious BBQ in the Riverfront Park Events Building overlooking the Arkansas River. Miss Laura's Players will entertain with a comedic performance of "The Medicine Show on Hanging Day."
Day 2
Farm tour: Visit a working farm and learn about raising crops like soybeans, rice and corn. Stroll through pecan groves and observe honeybees at work.
Arrive at Sequoyah's Cabin: Tour the home of Sequoyah, who developed the Cherokee alphabet.
Lunch at The Restaurant of The Cherokee: Head to Tahlequah and enjoy a unique lunch at The Restaurant of The Cherokee. Meal is complete with fried bread, drink and dessert.
Murrell Home: Tour the mansion built in 1845 by George Murrell, who married a niece of Cherokee Chief John Ross.
Arrive at Cherokee Heritage Center: Your group will go on a guided tour through the ancient village, Cherokee National Museum and Adam's Corner Rural.
Back to Fort Smith for dinner
Day 3
Driving Tour – Historic District & Downtown Murals: Explore the awe-inspiring murals painted along Garrison Avenue and discover the timeless architecture of 22-block Belle Grove Historic District.
A & M Railroad Excursion: Explore the Natural State at its best on this exciting train excursion through the majestic
Ozark Mountains. Enjoy lunch during your excursion.  Must be prearranged.
Tour The Clayton House: This restored 1850s home of William Henry Clayton, prosecuting attorney for Judge Parker, contains authentic Clayton Family and period pieces. Tour must be prearranged.
Fort Smith Regional Art Museum: Enjoy permanent and traveling exhibits at one of Northwest Arkansas' newest additions to the art community.
Dinner at Taliano's: Housed in the James Sparks Home (1887), this Romanesque mansion features hand-carved fireplaces and original chandeliers.
Day 4
Depart for Northwest Arkansas
Driving tour of Fayetteville: A step-on guide will take you on a tour through hog country and home of the University of Arkansas; also includes a drive to Mount Sequoyah.
Tour Terra Studios: See where the Bluebirds of Happiness are made, enjoy a glass-blowing demonstration, view pieces by regional artists at the Muse Gallery, and explore the unique art park full of sculptures, fountains, a labyrinth and more. Everyone leaves with a Bluebird of Happiness.
Tour and Lunch at Peel Mansion: Tour the 1875 mansion built for Colonel Samuel West Peel and visit the Heritage Garden. Followed by a catered lunch in the mansion.
Walton 5 & 10 Center: Visit Sam Walton's original variety store, tracing the origins and growth of Wal-Mart. Bentonville's downtown area also has several shops for souvenirs.
Crystal Bridges Museum of American Art: Celebrate the spirit of American art and commercial/landscape architecture. The art collection offers a superb overview of American art, including American masterworks and lesser-known gems, contemporary artwork and temporary exhibits.
Dinner: Enjoy dinner at The Catfish Hole before heading back to Fort Smith.
Day 5
Arkansas River Valley Nature Center: Built on 170 secluded acres, the center offers an array of exhibits that focus on the wide variety of plants and wildlife found in the area.
Chaffee Crossing Historic District: Tour the 1941 WWII training facility and visit the restored barber shop where Elvis Presley received the "buzz cut heard around the world" after being drafted. Your group can also visit the Chaffee Military and Vietnam Veteran museums.
Mount Magazine: Enjoy lunch at the lodge as you look out over the beautiful scenery. Tour the Visitors Center and visit the gift shop.
St. Mary's Church & Arkansas Wine Country: Visit St. Mary's Church, then experience the tradition of Swedish wine making at Wiederkehr Wine Cellar. Followed by dinner at Wiederkehr Restaurant.
Return to Fort Smith