Fayetteville Itinerary: All-American Sampler
The Itinerary at a Glance
Come experience Fayetteville, North Carolina, a place where History, Heroes and a Hometown Feeling create the backdrop for a fun-filled, three-day adventure. Fayetteville, home of Fort Bragg and Pope Field, has a rich tradition of service to our country. Add the charm of Southern hospitality, and your group has the perfect recipe for a wonderful getaway.
3 Unique Experiences on This Trip
82nd Airborne Division War Memorial Museum
North Carolina Veterans Park
Cape Fear Botanical Garden
Duration: 3 Days
Available: Year-round
This Itinerary is Ideal For: All
Itinerary Details
---
Day 1
Hometown History & Local Highlights
Arrive in Fayetteville early afternoon.
Your visit begins with a historic walking tour of downtown. Your local guide will recount the history, stories and people who were important to this city. You will see the Fayetteville Area Transportation and Local History Museum to learn about the colonial transportation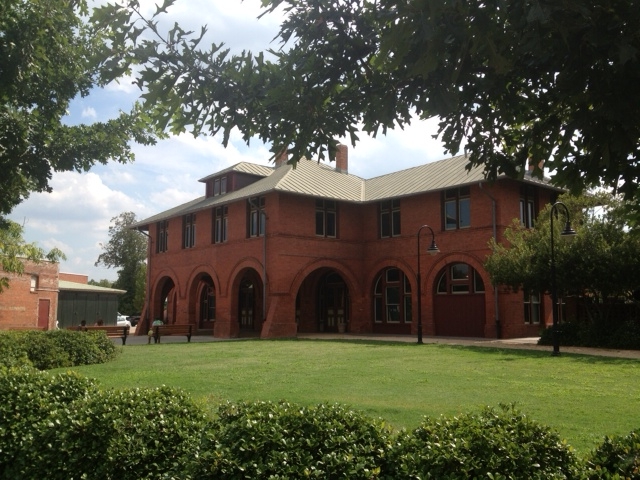 system that united the colonies. Next, you will visit the Fayetteville Independent Light Infantry (F.I.L.I.) Armory to see a treasure trove of unique artifacts and collectibles. Then you will see a number of historic churches and discover the unique architecture in the city's buildings. Also included on the tour are stops at the Market House, Cool Springs Tavern and Liberty Point.
Check in to your hotel this afternoon.
A popular option for dinner this evening is at Heritage Square, hosted by the Women's Club of Fayetteville. You will enjoy a unique, catered dinner along with a colonial-style tour and storytelling.
Day 2
Fort Bragg Experience & Museums
Begin your day with a guided tour of Fort Bragg, one of the U.S. Army's most important installations. A guide will provide insights and stories of our patriots in uniform. You will see the headquarters of the famous Golden Knights Parachute team, tour the JFK Special Warfare Museum and visit the 82nd Airborne Division War Memorial Museum. In addition, you will view a number of interactive sights involving our hometown heroes. (Options for Fort Bragg Experiences are listed below – subject to availability.)
Fort Bragg Experiences
Your step-on guide provides a unique perspective on the lives of the heroic men and women whose work and readiness keep our country free. Through your half-day TDY (temporary duty assignment), you'll experience why Fort Bragg's distinguished record of service is unparalleled. Options include:
Guided tours of Fort Bragg and Pope Field
Parachute packing with aerial delivery and quartermaster riggers
Attend Golden Knights video/Q&A/briefing session
Tour the 82nd Airborne Division War Memorial Museum
You'll want to be the chow hound – lunch at a dining facility
Tours available Tuesday through Thursday. All activities are subject to change depending on daily operations. Advanced reservations are required through Fort Bragg Public Affairs Office. Please allow 120 days for approval. Tour participants must be able to show U.S. citizenship.
For an authentic experience, plan to include lunch for your group and dine on post with true American heroes.
This afternoon you will visit the Airborne & Special Operations Museum, which highlights the role of the U.S. Army's Airborne and Special Operations force since 1940. Then travel to North Carolina Veterans Park, the first state park dedicated to all military veterans from each of the five service branches.
This evening includes dinner at the Hilltop House, a popular local eatery and historic house circa 1910. You will learn about the history and features of the house following dinner. (Advance reservations required.)
Day 3
1897 Poe House & Cape Fear Botanical Garden
Begin your day with a tour of the 1897 Poe House, the home of an affluent Fayetteville businessman and his family. Here you discover innovations and changes that defined the turn of the 20th century. Uncover historic technological, economic and social changes that took place in North
Carolina and the United States during that era.
Next, it's off to the Cape Fear Botanical Garden. Nestled on 77 acres, the garden boasts blooms year-round. You will experience more than 2,000 varieties of plants and specialty gardens. Enjoy a self-guided tour or explore the garden with a docent.
Specialty garden tours available include: Flower Promenade, Urban Forest, Down to the River Hike, Heritage Farm Lift and Butterfly Stroll.
Enjoy lunch provided by the Garden's Cafe Cart.
Depart Fayetteville early afternoon.
We wish you safe travels and welcome you back anytime to Fort Bragg and the communities of Cumberland County.
This itinerary may be customized to meet any special needs and interests of your group. It is perfect for a getaway, mystery tour or patriotic group tour.  Contact the Tourism Sales Manager at the Fayetteville Area Convention & Visitors Bureau for more information.
Fayetteville Area Convention & Visitors Bureau
Group Tour Services
Itinerary planning
Facilitate finding a step-on guide
All-American welcome reception
FAM tours for qualified operators