Illinois Itinerary: Expect the Unexpected Northwest Illinois Mystery Tour
The Itinerary at a Glance
Your group will come to Expect the Unexpected during this 3-day Mystery Tour that will keep them guessing and entertained and includes historic sites, a theater production, model railroads, unique lodging, dinner cruise on a paddlewheel boat and lunch at a biker bar.
4 Unique Experience on This Trip
Northwest Territory Historic Center
Heritage Canyon
Savanna Museum & Cultural Center
Conover Square Mall
Duration: 3 Days
Available: Year-round
This Itinerary is Ideal For: All
Itinerary Details
---
Day 1: Dixon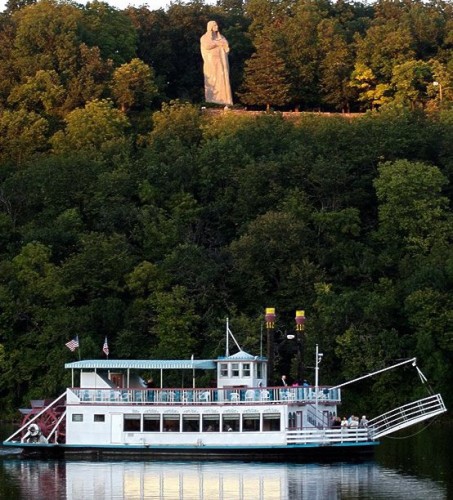 A tour of the Ronald Reagan Boyhood Home in Dixon is a glimpse back in time at the Reagan family residence of the 1920s. Check out the Visitor Center and Gift Shop, which features books and gifts highlighting the Reagan legacy.
The Northwest Territory Historic Center is a history, research and learning center housed in President Reagan's grade school. The center is proudly affiliated with the Smithsonian Institution and houses exhibits of Native American life, early American farming, a research library, historical exhibits, an art gallery and museum store.
A local step-on guide gives a narrated tour of Dixon's historic sites including stops at the Dixon Welcome Center and Gift Shop and the riverfront location of the bronze, life-size statue of a young Ronald Reagan on horseback entitled Begins the Trail.
Enjoy dinner at local fine dining restaurants offering a variety of choices including Italian, Thai or locally grown organic cuisine.
Day 2: Fulton – Savanna – Mount Morris
Fulton's deep roots are in the Netherlands, where "De Immigrant," an authentic Dutch Windmill was pre-assembled and erected by Dutch craftsmen for the town's Mississippi River dike. It is open for tours with millers giving demonstrations. The Windmill Museum & Cultural Center is across the street and features models of 22 European windmills, education area and gift shop.
Fulton's Heritage Canyon is a 12-acre area featuring numerous buildings that take the visitor back to the 1800s on self-guided walking tours. Travel along the Mississippi River Road to Savanna for a unique lunch experience at Poopy's Pub & Grub, one of Illinois' best-known biker bars. Not a traditional restaurant or typical biker bar, instead it has great food and drinks served in a relaxed, laid-back atmosphere.
Continue the afternoon at the Savanna Museum & Cultural Center features 80 mannequins in authentic Civil War uniforms, railroad artifacts and an extensive running model railroad layout.
Travel to White Pines State Park and check in to full-amenity cabins followed by dinner at the historic White Pines Inn log lodge. After dinner relax around a campfire and enjoy the peace and quiet of the surroundings deep in the heart of the White Pines State Forest.
Day 3: Mount Morris – Oregon
Entering the Barnacopia Farm Museum, visitors are greeted by a 1950s-era diner and a replica of a bygone downtown. Many antique farm machines and equipment, classic cars and more are on display including an antique tractor that rotates in the cupola at the top of the barn.
Lunch features a home-cooked, three-meat buffet with all the trimmings followed by a live theatrical performance at the White Pines Dinner Theatre. After the production browse the unique gift shop. After the show head to Conover Square Mall, a restored piano factory offering a unique shopping experience including the Blackhawk Model Railroad Club. Your evening will be highlighted by a dinner cruise on the panoramic Rock River aboard the Pride of Oregon, an authentic, 102-foot paddlewheel boat.